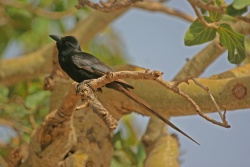 Genus: Ptilostomus
Description
A distinctive species from Africa.
It differs from other corvids (and many passerines) in having ten (instead of twelve) tail feathers.
Taxonomy
This genus of the family Corvidae contains only one species; the closest relative seems to be genus Podoces and Stresemann's Bush-Crow.
References
Clements, JF. 2008. The Clements Checklist of Birds of the World. 6th ed., with updates to December 2008. Ithaca: Cornell Univ. Press. ISBN 978-0801445019.
Del Hoyo, J, A Elliott, and D Christie, eds. 2009. Handbook of the Birds of the World. Volume 14: Bush-shrikes to Old World Sparrows. Barcelona: Lynx Edicions. ISBN 978-8496553507
Recommended Citation
Pages in category 'Ptilostomus'
This category contains only the following page.
P