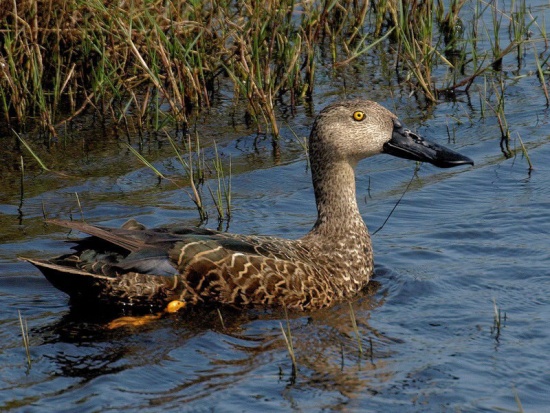 Spatula smithii
Identification
Length 53 cm, mass 387-781 g, males larger than females.
Adult: Both upper-parts and under-parts are dark brown; feathers have pale edges resulting in a mottled appearance. Male has paler and greyer head and neck than the female. The lesser and median coverts are pale blue, separated from the metallic dark bottle-green secondaries by a white wing bar; this is usually only visible when preening, or in flight. Both sexes have a large, dark, flat and wide bill.
The eye of the male is yellow, and that of the female is dark brown. The legs and feet of the male are bright orange-yellow, and those of the female are brownish olive.
Distribution
Southern Africa: Most of the population is concentrated in two areas of South Africa; the highveld of the Free State, North-West, Gauteng and Mpumalanga Provinces, and the lowlands of the Western Cape. The population is more scattered in the rest of South Africa, and in parts of Namibia and Botswana. An irregular visitor to eSwatini, the Lesotho lowlands, Zimbabwe and southern Angola.
Taxonomy
This is a monotypic species[1].
Formerly placed in the genus Anas.
Habitat
Mainly shallow freshwater wetlands, including sewage ponds, estuaries, lagoons, pans, and dams. They probably select food-rich waters; cover for nesting is apparently a less important factor.
Behaviour
Cape Shovellers feed in shallow water by dabbling: Swimming forward with the head held low and the bill being used to filter food out of the water.
Diet
The diet includes aquatic invertebrates and tadpoles; aquatic plants and seeds are eaten rarely.
Breeding
The nest is a scrape in the ground, in dense cover; it is lined with grass and down. Five to thirteen eggs are laid at any time of the year, with a peak in summer.
References
Clements, J. F., T. S. Schulenberg, M. J. Iliff, D. Roberson, T. A. Fredericks, B. L. Sullivan, and C. L. Wood. 2017. The eBird/Clements checklist of birds of the world: v2017, with updates to August 2017. Downloaded from http://www.birds.cornell.edu/clementschecklist/download/
Avibase
Claassens A & Marais E. 2008. Species information page - Cape Shoveller. SASOL Bird e-guide. Downloaded 25 January 2008.
Hockey, PAR, WRJ Dean, and PG Ryan, eds. 2005. Roberts' Birds of Southern Africa. 7th ed. Cape Town: John Voelcker Bird Book Fund. ISBN 978-0620340533
Recommended Citation
External Links
GSearch checked for 2020 platform.