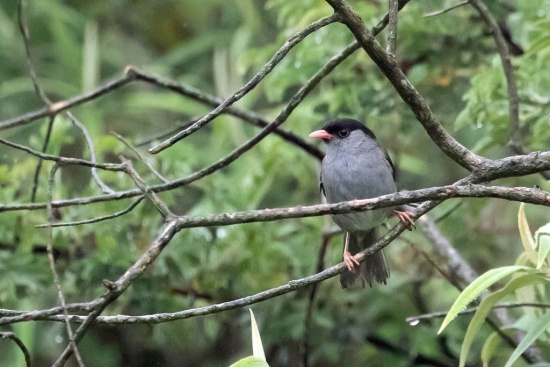 Alternative name: Blackcap Mountain Babbler
Sylvia nigricapillus
Lioptilus nigricapillus
Identification
Length 16-18 cm, mass 30 g
Adult: Head is capped black to mantle and below the eye. The rest of the upperparts are brown and the underparts are pale grey. The bill is orange-pink, the eyes are brown and the legs and feet are pale pink.
Distribution
Eastern South Africa and western eSwatini. Populations breeding at high altitudes migrate to lower altitudes in winter.
Taxonomy
Formerly placed in the genus Lioptilus.
This is a monotypic species[1].
Habitat
Forest patches, forest margins and scrubby vegetation including short woody Leucosidea and Buddleja thickets.
Behaviour
Often solitary. Inconspicuous unless calling.
Diet
Food is mainly fruit, but includes insects.
Breeding
The nest is a cup built by both sexes using plant material, usually within 4 m (12 feet) of the ground. Two eggs are laid between October and February.
Vocalisation
Song is distinctive; loud and melodious. Generally only heard in breeding season.
References
Clements, J. F., T. S. Schulenberg, M. J. Iliff, S. M. Billerman, T. A. Fredericks, B. L. Sullivan, and C. L. Wood. 2019. The eBird/Clements Checklist of Birds of the World: v2019. Downloaded from http://www.birds.cornell.edu/clementschecklist/download/
Hockey, PAR, WRJ Dean, and PG Ryan, eds. 2005. Roberts' Birds of Southern Africa. 7th ed. Cape Town: John Voelcker Bird Book Fund. ISBN 978-0620340533
Recommended Citation
External Links