This article is incomplete.
This article is missing one or more sections. You can help the BirdForum Opus by expanding it.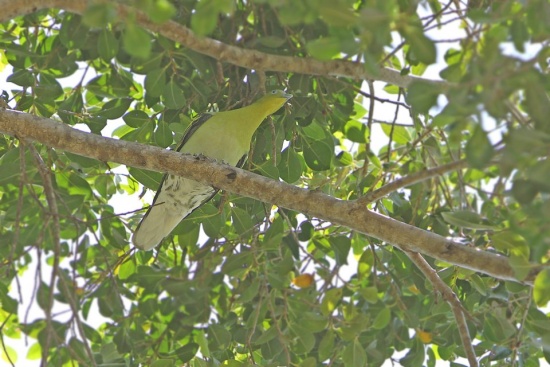 Treron aromaticus
Identification
28 centimeters in length. Its head, tail, and underparts are bright green, and its head has a grey crown. The legs are red; the bill is thin and grey. The flight feathers and tail are black. The male has a chestnut back. The female has a green back and no orange breast patch.
Distribution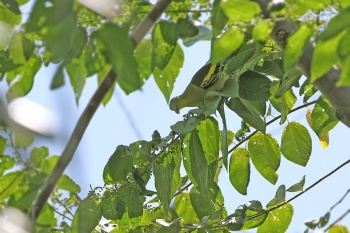 Endemic to Buru Islands, Indonesia.
Taxonomy
This is a monotypic species[1].
It was formerly considered conspecific with Sri Lanka Green Pigeon, Ashy-headed Green Pigeon, Grey-fronted Green Pigeon, Philippine Green Pigeon and Andaman Green Pigeon.
Habitat
Rainforest and similar dense wet woodlands.
Behaviour
Breeding
It builds a nest of sticks in a tree and lays two white eggs. Its flight is fast and direct.
Diet
Diet includes the seeds and fruits of a wide variety of plants.
References
Clements, J. F., T. S. Schulenberg, M. J. Iliff, B.L. Sullivan, C. L. Wood, and D. Roberson. 2012. The eBird/Clements Checklist of Birds of the World. 6th ed., with updates to October 2012. Ithaca: Cornell Univ. Press. ISBN 978-0801445019. Spreadsheet available at http://www.birds.cornell.edu/clementschecklist/downloadable-clements-checklist
Birdforum thread mentioning splitting of this species
Recommended Citation
External Links