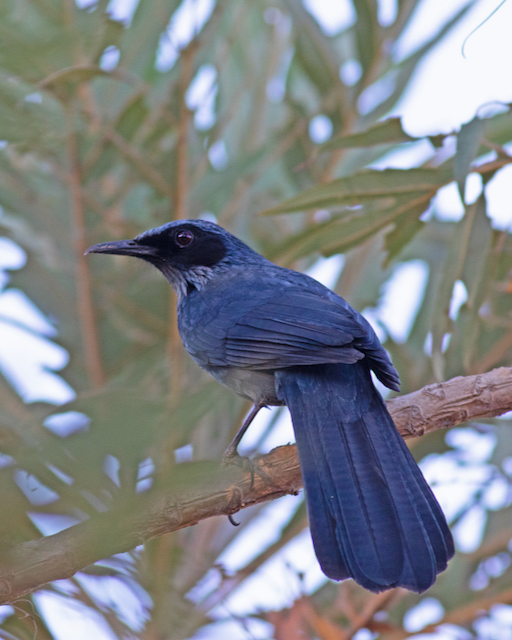 Melanotis caerulescens
Identification
24–26·5 cm (9½-10 in)
Deep blue overall plumage
Black mask
Distribution
South America: essentially endemic to Mexico, ranging from southern Sonora in the west and southern Tamaulipas in the east, south to Oaxaca, though there have been a few records in the US.
Taxonomy
Subspecies
There are 2 subspecies[1]:
Tres Marías Islands (off western Mexico)
Oak-pine zone of western Mexico (southern Sonora to Isthmus of Tehuántepec)
Habitat
Scrub, pine forest, oak scrub and thorn forest. Tropical deciduous forest.
Behaviour
Diet
An omnivorous species, they appear to take insects, particularly during the breeding season. They will also likely eat some fruit and seeds.
Breeding
They construct an open cup nest, but there is little other information available.
References
Clements, J. F., T. S. Schulenberg, M. J. Iliff, S. M. Billerman, T. A. Fredericks, B. L. Sullivan, and C. L. Wood. 2019. The eBird/Clements Checklist of Birds of the World: v2019. Downloaded from http://www.birds.cornell.edu/clementschecklist/download/
Cody, M. (2020). Blue Mockingbird (Melanotis caerulescens). In: del Hoyo, J., Elliott, A., Sargatal, J., Christie, D.A. & de Juana, E. (eds.). Handbook of the Birds of the World Alive. Lynx Edicions, Barcelona. (retrieved from https://www.hbw.com/node/58179 on 15 March 2020)
Recommended Citation
External Links
GSearch checked for 2020 platform.