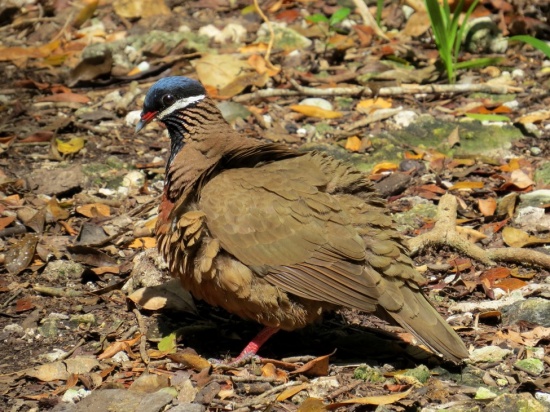 Starnoenas cyanocephala
Identification
30cm
Bright cobalt blue head
Black stripe from mouth, through the eye, to the hindneck
White stripe from lower bill to hindneck
Black gorget, sides of the neck and centre of breast
Fine white band along breast
Blue spots across throat
Pale pink breast
Olive brown tinged with purple on sides, back of neck and mantle
Buff brown belly
Dark brown iris
Greyish bill, dark red at base

Female: similar but paler
Juvenile: duller olive brown, buffish-brown edges to wing shields
Distribution
Endemic to Cuba where endangered (500-1850 birds).
Taxonomy
This is a monotypic species[1].
Habitat
Open understory of moist lowland forests, swamps, and moist montanes. Seems to do well in forest on limestone base if the amount of leaf litter is limited.
Behaviour
Diet
The diet includes seeds, berries and snails.
Breeding
They nest on the ground, amongst tree roots or in stump cavities, the clutch consisting of 2 white eggs.
Vocalisation
Voice: A deep two-syllable "ooowup....ooowup".
References
Clements, JF. 2009. The Clements Checklist of Birds of the World. 6th ed., with updates to December 2009. Ithaca: Cornell Univ. Press. ISBN 978-0801445019.
BirdLife International
International Dove Society
Recommended Citation
External Links
GSearch checked for 2020 platform.