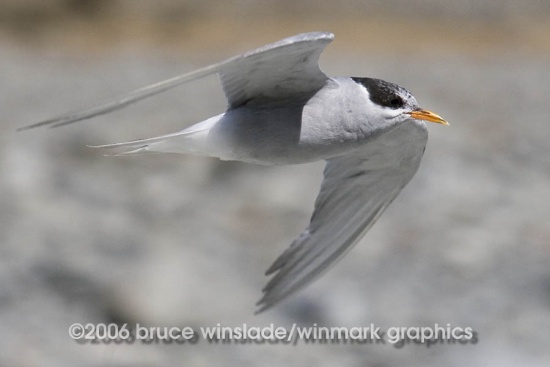 Chlidonias albostriatus
Identification
29cm

Blue grey body
White rump
Short shallow–forked tail
Black cap
Bright orange bill and legs

Juveniles lack the black cap.
Distribution
South Island; disperses to Stewart Island and North Island (New Zealand)
Status
Classified as Endangered in the 2007 IUCN Red List).[2]
Taxonomy
This is a monotypic species[1].
Habitat
Breeds in small colonies on gravel riverbeds of South Island, disperses to coasts.
Behaviour
Breeding
Colonial breeders (up to 50 pairs), mostly inland but some may be found near the coast. The nest is a shallow scrape, with a few short bits of twigs around it. The clutch consists of 1-2 eggs.
Diet
The diet includes nymphs, mayflies, stoneflies, fish, insects, worms and grass grub larvae.
References
Clements, JF. 2009. The Clements Checklist of Birds of the World. 6th ed., with updates to December 2009. Ithaca: Cornell Univ. Press. ISBN 978-0801445019.
BirdLife International
New Zealand Birds
Recommended Citation
External Links
Search the Gallery using the scientific name:
Search the Gallery Using the common name:
GSearch checked for 2020 platform.