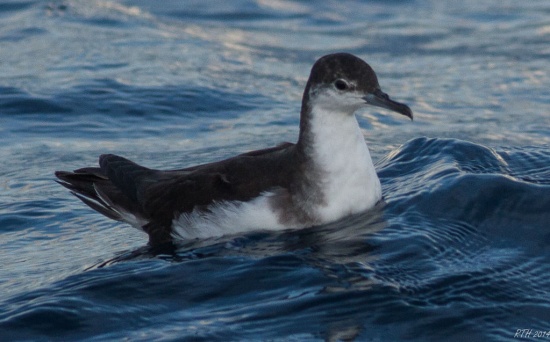 Puffinus lherminieri
Identification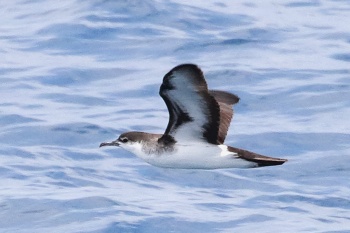 27–33 cm, 10.6-13 inches. Wingspan 64–74 cm, 25-29 inches. 138–290 g

Blackish-brown upperparts.
Underparts, cheeks and throat are white with conspicuous spot at sides of rump.
Wing are broad and short.
Black tail is long and rounded.
Black flight feathers.
White around eye in most birds.
Partial eye ring
Occasionally short supercilium in front of eye.
Occasionally short and narrow eye stripe behind eye.
Dark flanks merge into white breast and occasionally with partial breast band.
Thighs and undertail coverts dark brown.
Dark grey trailing edge to underwing.
Base of primaries normally have small quantity of silver or white
Lesser coverts darkly spotted or streaked.
Iris dark brown.
Beak grey to blue grey often darker on culmen and black tip.
Legs and feet pale pink with outer tarsi and toes blackish.
Sexes similar, female slightly smaller.
Similar Species
Manx Shearwater is slightly larger with longer more-pointed wings, and white undertail coverts.
Cory's Shearwater is much larger with much lighter brown body and wings, heavy yellow bill and white tail band.
Great Shearwater is much larger with lighter body, smudgy brown belly, neat cap, narrow pointed wings. and white tail band.
Distribution
Breeds in the Caribbean. All breeding grounds are islands.
Recently discovered off Brazil on Fernando do Noronha, Itataia Islands.
Winters in the Carribbean and up the east coast of the United States.
Taxonomy
Clements[1] and Gill and Donsker[3] agree on the taxonomy of this species. Dickinson[4] however treats the shearwaters differently.
Tropical Shearwater and Persian Shearwater have in the past been included in this species. Both are now split (however Persian Shearwater is included in Tropical by Dickinson). The split of Galapagos Shearwater, which is known to differ strikingly both in DNA (with high support), physiology and voice is accepted by all three authorities, the same goes for Heinroth's Shearwater.
Dickinson follows the Austin et al. 2004 revisions of the Audubon's/Little Shearwater complex and has transferred the two subspecies baroli and boydi of Little Shearwater to this species. Clements and Gill and Donsker follow Sangster et al 2005 and Onley & Scofield 2007 in this case and accept both former subspecies as full species (Barolo Shearwater and Boyd's Shearwater).
Subspecies
Audubon's Shearwater as treated here has 2 subspecies[1]:
The described subspecies atrodorsalis (Mascarene Shearwater) is now believed to have been a juvenile of the nominate form of Tropical Shearwater.
Carboneras et al[2] don't accept loyemilleri and treat it as a synonym of lherminieri.
Habitat
Mainly occurs in offshore waters. Near land next to colonies during the breeding season where it breeds on islands, offshore islets and coral atolls, utilising cliffs and slopes with herbaceous vegetation and rocky areas.
Behaviour
Flight
In calmer winds this is a species that tends to fly low. However, if going across strong winds, a high arching flight may be seen that reminds of Petrels.
Breeding
It is a colonial breeder, breeding frequently in low numbers occasionally in mixed colonies, nesting in small burrows and crevices in rocks. Colonies are visited on up to 95% of nights after brooding for 3-7 days, but may be seen from shore during day. The single white egg is incubated by both parents for 44-60 days in stints of between 2-10 days; the young fledge between 62 and 100 days later. Breeding season length and time is dependent on location. Mainly in January to March. Brazilian population lay eggs between August and September, fledging in October. Sexual maturity is reached at about 8 years. One ringed bird is known to have reached 19 years.
Diet
The diet consists of small fish, squid and crustaceans. They feed by pursuit diving and plunging, and 'pattering' on the water surface and surface grabbing. Dives last up to several seconds. Dives up to 15 m. May join other feeding seabirds and small fishing vessels.
Vocalisation
Similar to Manx Shearwater but more strangled. Female calls are lower and harsher than males. Only calls at night. Mainly silent at sea.
References
Clements, J. F., T. S. Schulenberg, M. J. Iliff, D. Roberson, T. A. Fredericks, B. L. Sullivan, and C. L. Wood. 2015. The eBird/Clements checklist of birds of the world: v2015, with updates to August 2015. Downloaded from http://www.birds.cornell.edu/clementschecklist/download/
Handbook of the Birds of the World Alive (retrieved September 2015)
Gill, F and D Donsker (Eds). 2015. IOC World Bird Names (version 5.3). Available at http://www.worldbirdnames.org/.
Dickinson, EC, ed. 2014. The Howard and Moore Complete Checklist of the Birds of the World. 4th ed. Princeton: Princeton Univ. Press. ISBN 978-0956861122
Paper by Austin et al. (2004) describing phylogeny of small shearwaters
Recommended Citation
External Links
GSearch checked for 2020 platform.