East Africa: Democratic Republic of the Congo, Uganda, Rwanda, Burundi, Tanzania
Overview
The Albertine Rift is located in eastern Africa as part of the Great Rift Valley. Around it are the countries of the Democratic Republic of Congo, Uganda, Rwanda, Burundi, and Tanzania. Along with those countries, a visitor to the area will be among the Virunga, Mitumba, and Ruwenzori Mountains.
According to the Wildlife Conversation Society[1], it is home to a very large portion of the wildlife in Africa, approaching half of its birds and mammals. As a zone of endemism, there should be species found there not found anywhere else.
BirdLife International[2] has designated it as an Endemic Bird Area.
Unfortunately, It is also an area with a very dense population that has experienced a lot of civil turmoil over the years.
Birds
Notable Species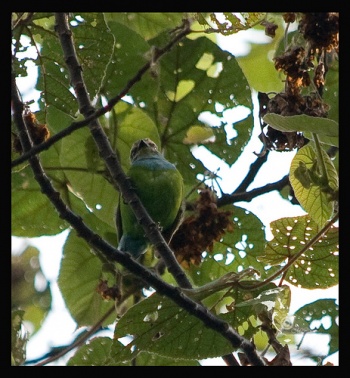 To talk about notable and birds, in the same context, when referring to the Albertine Rift must require mention at the outset of its status as an Endemic Bird Area. That, in and of itself, is notable.
Some of the species, connected to that location's status and reputation, that a visitor might get a chance to spot include Grauer's Broadbill, Grauer's Warbler, and Neumann's Warbler and are only found in this area, according to BirdLife International[2].
Rarities
Lendu Crombec listed as critically endangered because of a small population size.
Yellow-crested Helmetshrike listed as vulnerable because of potentially declining population due to threat to its habitat.
Shelley's Crimsonwing, endangered because of population decline in the area.
Prigogine's Nightjar as endangered because of limited sighting.
These species so listed by BirdLife International[3]
Check-list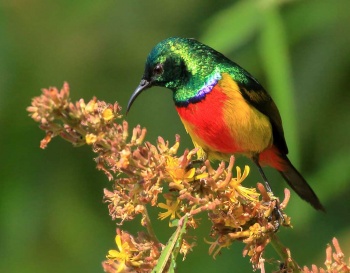 Birds you can see here include:
Handsome Spurfowl, Rwenzori Turaco, Rwenzori Batis, Stripe-breasted Tit, Grauer's Warbler, Rwenzori Apalis, Black-faced Apalis, Kungwe Apalis, Red-faced Woodland Warbler, Neumann's Warbler, Yellow-eyed Black Flycatcher, Archer's Robin-Chat, Red-throated Alethe, Blue-headed Sunbird, Purple-breasted Sunbird, Regal Sunbird, Strange Weaver, Shelley's Crimsonwing.
Other Wildlife
As the Albertine Rift is diverse when it comes to birds, the other wildlife present here contains varied and interesting species.
They could include the Elephant, Hippopotamus, Chimpanzee, Gorillas, Lions, and Leopards to name a few.
Site Information
History and Use
The history of this region extends back not in hundreds of years but in thousands upon thousands. For instance, Lake Albert, from whom the name Albertine is drawn, is thought to have been formed millions of years ago.
A recurring theme in the area has been instances of violent, political strife.
Ecological centered agencies are working to protect it.
Areas of Interest
When talking about Areas of Interest, the normal thought concerns specific places within, or around, a given location.
In considering such areas within the Albertine Rift, it's certainly within that scope to consider the whole of it as an area of interest.
There are lakes, mountains, rivers, protected areas, birds, and wildlife in abundance.
There are areas that are being actively studied for conversation purposes.
To designate a particular area, or areas, as such is to relegate another to secondary status. Nothing here is deserving of secondary. Pick a spot!
Access and Facilities
Just as this area is unique in its many physical attributes, access to, and facilities in it, are unique also.
It's an area surrounded by many nations instead of a single one.
It's an area where circumstances can be fluid, especially in terms of governance, which can dictate if, or how, or where, a person can actually travel to it. And when they get there, how, and where, can they live during the time they are present.
With those and any other, considerations that may be in play at the time of a potential visit, the best course of action may be to consult travel and tour, professionals with up-to-date knowledge of the area for guidance and assistance in planning a trip.
References
Wildlife Conservation Society website, https://albertinerift.wcs.org/
BirdLife International (2020) Endemic Bird Areas factsheet: Albertine Rift mountains. Downloaded from http://www.birdlife.org on 06/08/2020.
BirdLife International (2020) IUCN Red List for birds. Downloaded from http://www.birdlife.org on 06/08/2020.
Recommended Citation