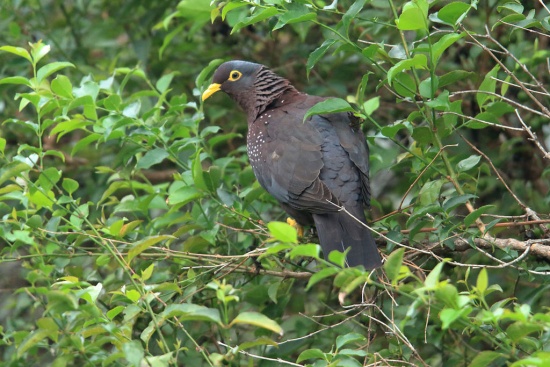 Alternative names: Rameron Pigeon, African Olive-Pigeon
Columba arquatrix
Identification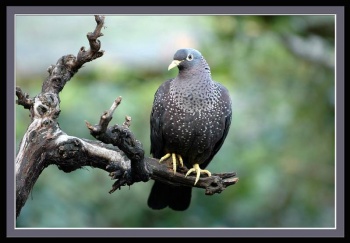 38–41 cm (15-16¼ in)
Male

Maroon back and wings
Shoulders heavily speckled with white spots
Maroon underparts with heavy white spotting
Grey head,
Yellow patches around the eye
Yellow bill
Neck plumage (used in display) streaked maroon and white
Dark grey underwing and undertail
Yellow feet

Female: Very similar but somewhat duller
Juvenile: Similar to adult but duller-colored eye patches, bill and feet. Browner on back than adult, head mottled gray and purple. Underparts reddish brown, breast feathers fringed pale, upper belly with some small white spots. Bare parts are dull greeny-yellow, and the wing feathers have pale fringes.
Similar Species
The yellow bill and eyering distinguish this species from the more common and widespread Speckled Pigeon.
Distribution
Africa, Arabia
Western Africa: Guinea, Nigeria, Cameroon, Equatorial Guinea, Democratic Republic of Congo, Angola
Eastern Africa: Sudan, Ethiopia, Somalia, Kenya, Uganda, Rwanda, Burundi, Tanzania, Zambia, Mozambique, Malawi
Southern Africa: Zimbabwe, South Africa, KwaZulu-Natal, Lesotho, eSwatini
African Islands: Gulf of Guinea Islands, Bioko (Fernando Po), Sao Tome, Principe
Arabia: Arabian Peninsula, Saudi Arabia, Yemen
Taxonomy
This is a monotypic species[1].
Habitat
Mountain shrubland, second growth and clearings, and in tall trees close to cultivated land.
Behaviour
Occurs in groups (occasionally in sizeable flocks)
Breeding
They construct a large stick nest. They lay a single white egg which is incubated for 17-20 days; the young fledge in another 20 days.
Diet
The diet consists of fruit (particularly olives), seeds and berries, with the addition of insects, their larvae and caterpillars.
Vocalisation
Hoarse, low kroo-ku, followed by stuttering; resonant bursts of du-du-du-du notes ending with mournful woooo. Also soft trumpeting kraaa, kraaa or preem, preem or bleating meech (excitement or alighting call) during display flight.
Movements
Resident but locally nomadic depending on fruiting seasons of food plants. Occasional influxes of large numbers in Cape Region.
References
Clements, J. F., T. S. Schulenberg, M. J. Iliff, D. Roberson, T. A. Fredericks, B. L. Sullivan, and C. L. Wood. 2017. The eBird/Clements checklist of birds of the world: v2017, with updates to August 2017. Downloaded from http://www.birds.cornell.edu/clementschecklist/download/
Avibase
Baptista, L.F., Trail, P.W., Horblit, H.M. & Boesman, P. (2018). African Olive-pigeon (Columba arquatrix). In: del Hoyo, J., Elliott, A., Sargatal, J., Christie, D.A. & de Juana, E. (eds.). Handbook of the Birds of the World Alive. Lynx Edicions, Barcelona. (retrieved from https://www.hbw.com/node/54110 on 25 June 2018).
Hockey, PAR, WRJ Dean, and PG Ryan, eds. 2005. Roberts' Birds of Southern Africa. 7th ed. Cape Town: John Voelcker Bird Book Fund. ISBN 978-0620340533
Sinclair, I., Hockey, P.A.R., and Arlott, N. (2005). The Larger Illustrated Guide to Birds of Southern Africa. Struik, Cape Town. ISBN 978-1775840992
Wikipedia
Recommended Citation
External Links

GSearch checked for 2020 platform.