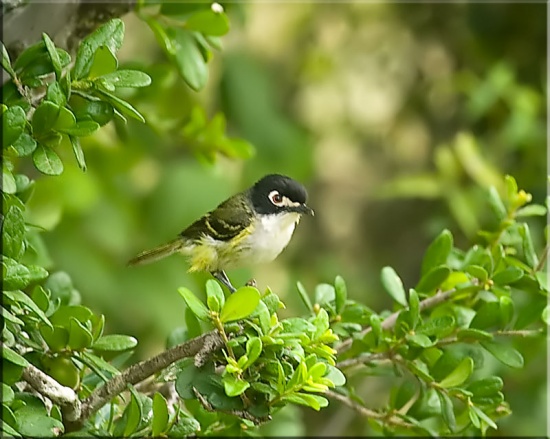 Vireo atricapilla
Identification
12 cm
Male
Olive green above
White below
Faint yellow flanks
Black crown and upper half of the head
Partial white eye-ring and lores
Brownish-red iris
Black bill

Female is duller with slate grey crown, greenish yellow underparts
Second year males may be intermediate in colouration between adult males and females.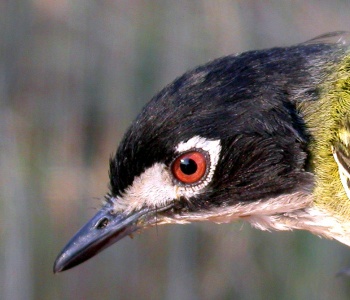 Distribution
Breeds in USA (Oklahoma, Texas) and northern Mexico (Coahuila, Nuevo Leon, and Tamaulipas). Extirpated from Kansas.
Winters in lowlands along the Pacific coast of Mexico, south west from the breeding area.
Taxonomy
This is a monotypic species[1].
Status
The Black-capped Vireo is listed as an Endangered species by the U.S. Fish and Wildlife Service. Brown-headed Cowbird parasitism is a major problem.
Habitat
Scrublands with scattered clumps of shrubs, especially thornscrub, separated by open grassland.
Behaviour
Breeding
Both sexes build the nest laying 3-4 eggs which are incubated for 14-17 days. The female broods the young, with the male providing the food. The young fledge after 10 to 12 days
These birds can produce more than one clutch in the breeding season. The male tends some or all of the fledglings, while the female re-nests (this may be with another male).
Diet
The diet includes beetles and caterpillars.
References
Clements, JF. 2010. The Clements Checklist of Birds of the World. 6th ed., with updates to December 2010. Ithaca: Cornell Univ. Press. ISBN 978-0801445019. Spreadsheet available at http://www.birds.cornell.edu/clementschecklist/Clements%206.5.xls/view
Paper describing population genetics of Black-capped Vireo
Wikipedia
Recommended Citation
External Links
GSearch checked for 2020 platform.