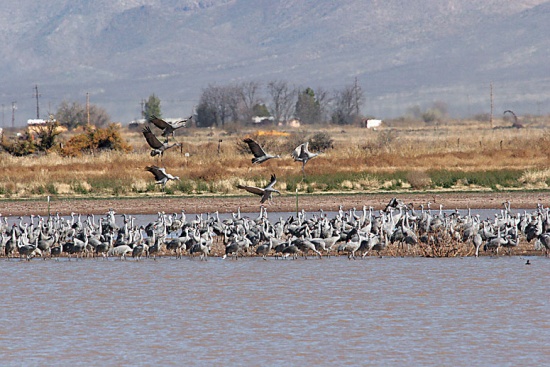 Overview
This refuge is administered by the Arizona Fish and Game Department. It is comprised of wetlands, notably open water with mud flats (few true marshes), and attracts large numbers of Sandhill Cranes in winter, the major motivation for preservation of the site. A site included in the SE Arizona Birding Trail.
Location
Southeast Arizona, W 31, 33', 37", N 109, 43', 17". Starting 5 miles south of Tombstone on U.S. highway 191, turn east on Davis Road for 23 miles, then south on Coffman Road (gravel, well-maintained) to entrance.
Birds
Notable Species
Sandhill Cranes come in large numbers (up to 21,000) in winter. Smaller numbers of Snow Geese mix with the cranes. Great Horned Owls and Barn Owls are easy to find in unusual numbers. Rarely, the Ross's Goose has shown up in small numbers. Dabbling and diving ducks, plovers, and the usual desert sparrows, finches, and flycatchers are abundant.
Check-list
To-do
Other Wildlife
Site Information
History and Use
This 1500-acre conservation area was purchased from the Hyannis Cattle Company in 1997 by the Arizona Fish and Game Department. It had long been know as a prime birding spot, due to a seasonal wetland that attracted large numbers of waterfowl, notably Snow Geese and Sandhill Cranes, in winter. Subsequent development has included, with water management via dikes and levees to create ponds of varying depth for waterfowl, and some visitor facilities.
Access and Facilities
Access includes a short stretch of maintained gravel road, possibly problematic after a heavy rain. There is a small parking area at the entrance with a pit toilet and picnic tables. Overnight parking is permitted (no fee). Further west and closer to the ponds is a larger parking area. Interpretive signs, sign-in box, and benches along the trails complete the current development.
Contact Details
The area itself has no resident staff or office. Arizona Game & Fish can be reached at (520) 628-5376.
External Links