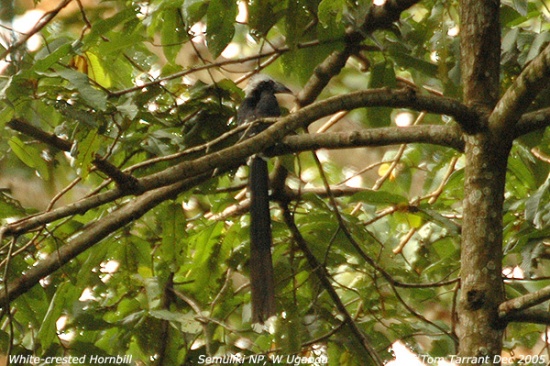 Alternative name: Long-tailed Hornbill
Horizocerus albocristatus
Disambiguation: for the White-crested Hornbill found in south-east Asia, Berenicornis comatus, see White-crowned Hornbill
Identification
70cm. A black hornbill with a very long tail and a distinctive white crest
Very long, graduated tail with white tip
Bushy white crest
Nominate subspecie with white face, cassini with black face, macrourus with white face, throat and upper breast
Flesh-coloured throat skin
Blackish bill and casque, basal half of upper mandible yellow in nominate and macrourus, black in cassini
Females are smaller and have a shorter casque ridge. Juveniles have a smaller, greenish bill without casque.
Distribution
Tropical Africa from Guinea in the west to Uganda in the east. South to northern Angola.
Patchily distributed but locally common.
Taxonomy
Three subspecies recognized:
Fomerly placed this species in the genus Tockus or in Tropicranus.
Habitat
Primary forest with dense tangles. Also in tall gallery and secondary forest.
Occurs up to 1500m.
Behaviour
Feeds mainly on insects but takes also spiders, slugs, lizards, snakes, nestlings and shrews and also fruit which is taken from the ground.
Often follows driver-ants, bird groups or monkeys to hawk for insects disturbed by them.
Little known about breeding. The nest is placed in a natural cavity in a tree or palm stump. The female seals the entrance with its own droppings. Lays 2 eggs.
References
Clements, J. F., T. S. Schulenberg, M. J. Iliff, D. Roberson, T. A. Fredericks, B. L. Sullivan, and C. L. Wood. 2015. The eBird/Clements checklist of birds of the world: v2015, with updates to August 2015. Downloaded from http://www.birds.cornell.edu/clementschecklist/download/
Del Hoyo, J, A Elliot, and J Sargatal, eds. 2001. Handbook of the Birds of the World. Volume 6: Mousebirds to Hornbills. Barcelona: Lynx Edicions. ISBN 978-8487334306
Recommended Citation
External Links