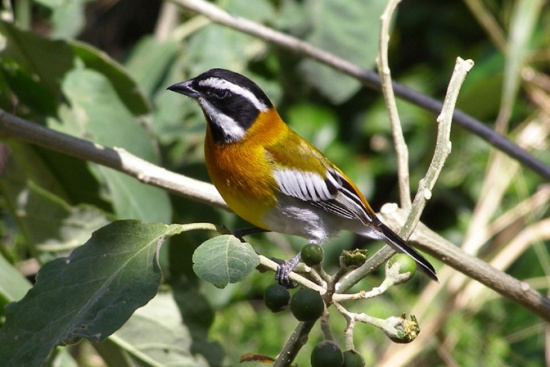 Alternative name: Western Stripe-headed Tanager.
Spindalis zena
Identification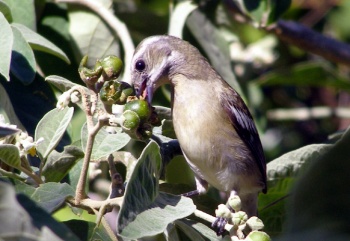 Length: 15-17cm (5.8-6.75in); weight 20g.
Cuban race male: black head with white stripes; yellow chin; orange-yellow breast, collar, nape and rump; belly white to greyish; back olive; wings are olive with black and white primaries and secondaries; tail black and white; legs grey.
Bahamas race male: same as Cuban except it has a black back and all black wings, with white in primaries and secondaries, plus a thin black bib extending to the shoulder.
Female: olive-grey above; paler below; 2 faint whitish facial stripes and whitish wing spot.
Distribution
Resident in Cozumel Island (Mexico), throughout Cuba, the Bahamas and Grand Cayman, occasionally wandering into SE Florida and the Florida Keys in the summer.
Taxonomy
Subspecies
Five subspecies are recognized:
S.z. townsendi -- northern Bahamas
S.z. zena -- southern Bahamas
S.z. pretrei -- Cuba
S.z. salvini -- Grand Cayman
S.z. benedicti -- Cozumel
Habitat
Open forests, forest edges, brush and shrub areas, and mangroves.
Behaviour
It has swift direct flight on rapidly beating wings.
Diet
Eats insects and fruits by foraging in foliage of trees and shrubs.
Breeding
Nesting: two to three brown-flecked, pale blue eggs are laid in a cup nest made of twigs and plants, lined with finer materials, and built on a branch of a tree. Incubation is 12-14 days by the female.
Vocalisation
The song is a high-pitched, thin zee-tit-zee, tittit-zee. Call is seeip or tsee.
References
Clements, J. F., T. S. Schulenberg, M. J. Iliff, S. M. Billerman, T. A. Fredericks, B. L. Sullivan, and C. L. Wood. 2019. The eBird/Clements Checklist of Birds of the World: v2019. Downloaded from http://www.birds.cornell.edu/clementschecklist/download/
Recommended Citation
External Links