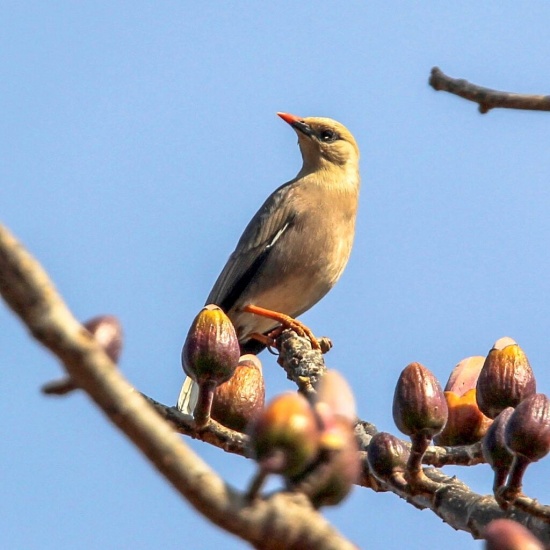 Alternative names: Vinous-breasted Myna; Jerdon's Starling
Acridotheres burmannicus
Sturnus burmannicus
Identification
22cm (8¾ in). A small Starling with pale plumage.
Dull white forehead and crown
Greyish-brown upperparts
Brown wings with white wing-patch
Brown tail with white tips
White chin, throat and upper breast
Vinous rest of underparts
White underwing-coverts
Whitish eye with dark bare skin forming black patch
Orange-red bill whit blackish base of lower mandible
Orange-yellow legs
Sexes similar. Juveniles are duller, have a brown crown and a brown eye.
Variations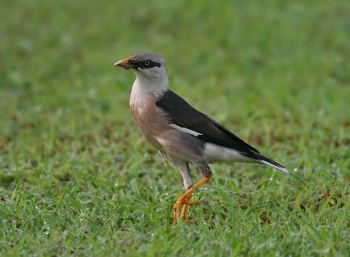 Leucocephalus is generally darker and has a pale neck collar.
Distribution
Found from Burma southeast to extrem southwest Yunnan (China), Thailand (except northwest and south), Cambodia, Laos and Vietnam (except north).
Records in peninsular Malaysia and Singapore may refer to vagrants or escapees.
Rare exotic in Taiwan but not established there.
Fairly common in its range.
Taxonomy
Often placed in genus Sturnus.
May form a superspecies with Black-winged Starling.
Subspecies
Two subspecies recognized[1]:
Habitat
Open grassland, gardens, cultivated areas, scrub, semi-desert and large clearings in forests. Occurs up to 1500m.
Behaviour
Diet
Feeds on fruit and insects. Forages in pairs or small flocks mainly on the ground. Forms large and noisy communal roosts in bamboo, reeds or sugar cane.
Breeding
Breeding season from April to November. The nest is placed in a tree hole, under house eaves or in a thatched roof.
Movements
Local movements recorded.
References
Clements, J. F., T. S. Schulenberg, M. J. Iliff, S. M. Billerman, T. A. Fredericks, B. L. Sullivan, and C. L. Wood. 2019. The eBird/Clements Checklist of Birds of the World: v2019. Downloaded from http://www.birds.cornell.edu/clementschecklist/download/
Del Hoyo, J, A Elliott, and D Christie, eds. 2009. Handbook of the Birds of the World. Volume 14: Bush-shrikes to Old World Sparrows. Barcelona: Lynx Edicions. ISBN 978-8496553507
Recommended Citation
External Links