Streptopelia vinacea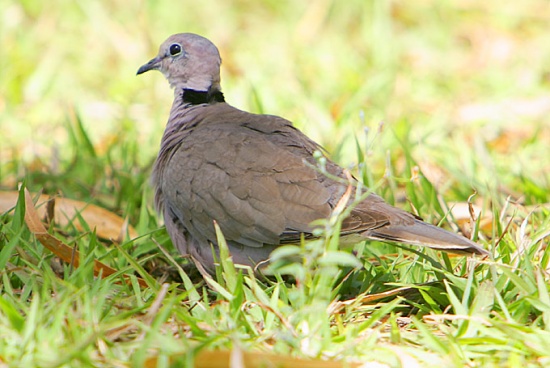 Identification
25cm. Pale brown back, wings and tail are pale brown, blackish underwing, pale pink-grey head and underparts, black hind neck patch edged with white, red legs, white in the tail. Sexes are similar, but juveniles are duller than adults. The call is a fast coo-cu-cu-coo.
Distribution
Africa just south of the Sahara Desert.
Taxonomy
This species is monotypic.[1]
Habitat
Dry scrub and savanna.
Behaviour
Breeding: It builds a stick nest in a tree, often an acacia, and lays 2 white eggs.
Diet: They forage on the ground and the diet includes grass seeds, grains and other vegetation.
References
Clements, JF. 2008. The Clements Checklist of Birds of the World. 6th ed., with updates to December 2008. Ithaca: Cornell Univ. Press. ISBN 978-0801445019.
External Links
GSearch checked for 2020 platform.1