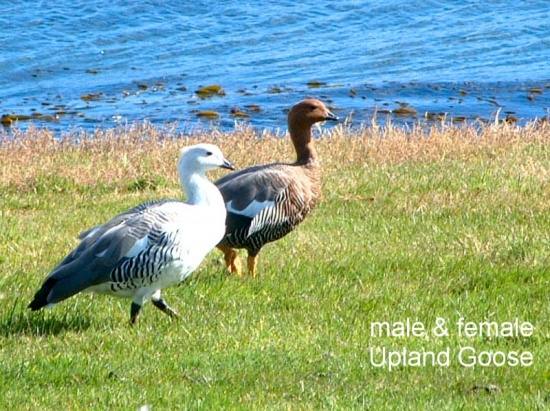 Chloephaga picta
Identification
Male: 64cm. White head and neck, white mantle, chest, abdomen and flanks with wide black lines, dark grey back, scapulars and primaries, white secondaries greater coverts on upperside producing a dark green speculum, grey central tail feathers , white laterals, black bill and legs.
White phase: Head, neck and chest white.
Female: 60cm. Bright red and neck, rufous mantle and chest with black lines, white abdomen and under flanks with wide black lines, black back and upper tail coverts, black bill, yellow legs, wings almost identical with male.
Distribution
South America: most of Chile, Argentina, and the Falkland Islands. It is very common in Tierra del Fuego.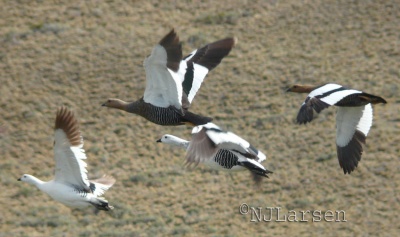 Taxonomy
There are two subspecies[1]:
C. p. picta - Males polymorphic
C. p. leucoptera - Males always white-breasted
Habitat
Grassy areas and meadows below the tree line to sea level; in the southern areas on Patagonian steppe.
Behaviour
The diet includes grass stems, leaves and seeds.
Partly migratory, both north-south and elevational.
References
Clements, JF. 2008. The Clements Checklist of Birds of the World. 6th ed., with updates to December 2008. Ithaca: Cornell Univ. Press. ISBN 978-0801445019.
External Links
GSearch checked for 2020 platform.1