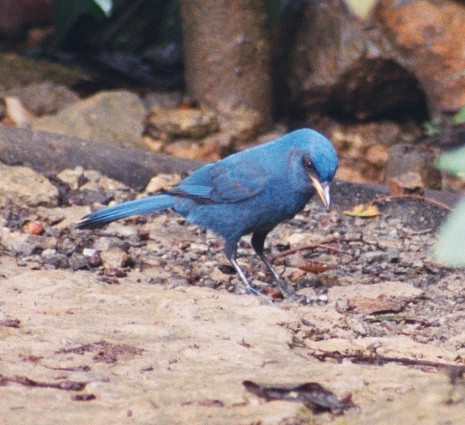 Aphelocoma unicolor
Identification
27 - 32cm.
Uniformly dark blue plumage
Black area around eye
Grey streaked chin
Brownish-black undersurface of wing and tail
Black, rather heavy hook-tipped bill
Black legs
Brown eye
Sexes similar, females are smaler than males. Juveniles are faintly bluish-grey and have a yellow lower mandible.
Distribution
Patchily distributed in northwestern Central America, southern and southeastern Mexico, Guatemala, El Salvador and eastern Honduras.
Relatively common in Guerrero (Mexico) but in danger of extirpation in other parts of its small distribution.
Taxonomy
Five subspecies accepted:
Habitat
Cloud forests, pine oak forests, and scrub. Occurs between 1370m and 3050m.
Behaviour
Usually seen in small flocks of 5 to 8 birds, foraging in trees among lichens.
Feeds omnivorous on berries, fruits, moths, insects, lizards, nesting birds and human discards like corn.
Breeding starts in late January. A sociable breeder with helpers. The nest is a bowl made of twigs. It's placed 5 - 14m above the ground in a tree. Lays 3 - 4 eggs.
A resident species.
References
Clements, JF. 2009. The Clements Checklist of Birds of the World. 6th ed., with updates to December 2009. Ithaca: Cornell Univ. Press. ISBN 978-0801445019.
Del Hoyo, J, A Elliott, and D Christie, eds. 2009. Handbook of the Birds of the World. Volume 14: Bush-shrikes to Old World Sparrows. Barcelona: Lynx Edicions. ISBN 978-8496553507
Recommended Citation
External Links