This article is incomplete.
This article is missing one or more sections. You can help the BirdForum Opus by expanding it.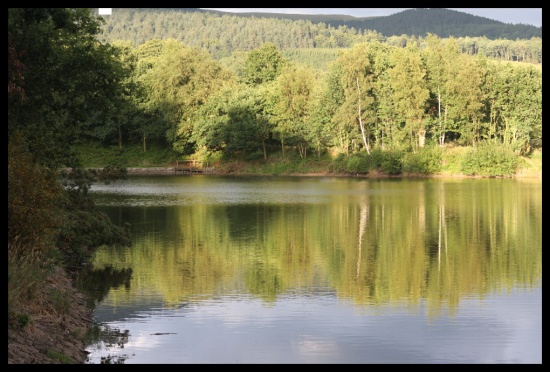 Overview
Teggs Nose reservoir sits at the foot of Teggs Nose hill. This forms part of a 4 reservoirs system within Macclesfield Forest. The others are Bottoms (see picture below), Ridgegate and Trentabank. All are walkable within an hour or so. Trentabank reservoir is home to a large Heronry. Large numbers of nests are easily visible from the veiwing area.
The Reservoir gives good access and views from 3 sides especially the dam side where it has parking facilities.
Birds
Notable Species
With a chain of 4 reservoirs in close proximity of each other this makes an ideal bird watching area with a good chance of seeing raptors at close quarters.
A good selection of waterfowl including Mallard, Coot, Tufted Duck, Common Pochard, Great Crested Grebe, Canada Goose, Common Moorhen, Grey Heron, Great Cormorant.
Good selection of Woodland birds including Eurasian Nuthatch, Great Tit, Coal Tit, Grey Wagtail, Common Kingfisher, Little Grebe (can be guaranteed), Goosander, Goldeneye, Peregrine sometimes over Teggs Nose Hill.
In season Redwing, Mistle Thrush, Fieldfare, Song Thrush, Skylarks (around nearby Shuttlingsloe hill. Teggs Nose woods include summer migrants such as Chiff chaff, Willow Warbler, Redstart, Pied Flycatcher.
Good views of Common Buzzard, Eurasian Sparrowhawk, Common Kestrel, Raven.
Swallow, Sand Martin, House Martin were seen in the summer of 2008
Rarities
Northern Goshawk has been seen, also Common Crossbill occasionally in nearby Macclesfield Forest
Check-list
Birds you can see here include:
To do
Other Wildlife
Weasels have been seen around the Bottoms Reservoir area in season.
Site Information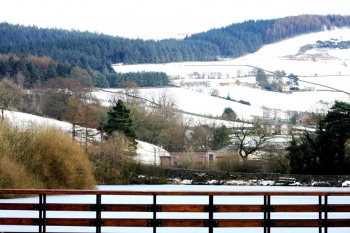 History and Use
A local fishing club own the fishing rights but is not heavily used by them, so a quiet place to watch and photograph wildlife.
Areas of Interest
To do
Access and Facilities
Above Teggs Nose hill and at the northern viewpoint is a visitors' centre off the Buxton Old Road, which provides car parking, information, public toilets, picnic tables and a telescope. Several open-air sculptures stand near the visitors' centre; these include a stone sheep, a bench with an abstract tree and a set of carved wooden benches surrounding the viewpoint.
Car parking is also available by Teggsnose Reservoir at the dam side accessable via Holehouse Lane.
Nearby public houses are the Leather's Smithy by Ridgegate Reservoir and the St Dunstan in the village of Langley both 5-10 minutes walk.
The whole area incorporates Macclesfield Forest and is ideal for walking.
Contact Details
To do
External Links