Alternative names: Sulawesi Honeyeater; Celebes Honeyeater; Celebes Myzomela
Includes: Bacan Myzomela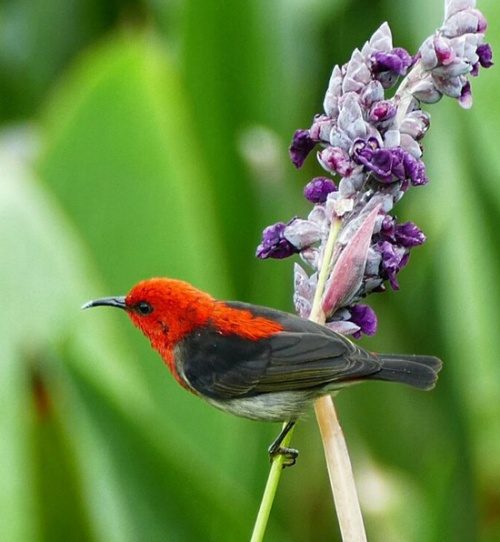 Myzomela chloroptera
Identification
9–12 cm (3½-4¾ in). A distinctive and striking Myzomela.
Male
Scarlet-red head, neck, breast and mantle to uppertail-coverts, forming stripe down centre of upperbody
Black scapulars, wing and tail
Narrow black loral stripe extending around eye and behind eye
Pale grey-brown to greyish-white flanks, belly, vent and undertail-coverts with olive-yellow wash on centre of belly
juga with brownish-black scapulars, wing and tail and without yellowish wash on belly
eva with slight yellowish tinge on belly
batjanensis with darker red plumage, confined to throat on underparts
Female
Drab brown above, more rufous brown on rump
Darker sepia-brown tail and wings, conspicuously edged yellowish-olive on flight-feathers and primary-coverts
Flame-red forehead, lores, frontal part of ear-coverts, chin and upper throat, merging into light brownish grey on rest of head and breast
Whitish buff rest of underparts
Juveniles similar to females.
Distribution
Sulawesi and adjacent islands, Indonesia.
Common to scarce in its range. Common in Lore Lindu National Park.
Taxonomy
Subspecies
Four to five subspecies recognized [1], some of which authorities may treat as separate species:
M. c. chloroptera in northern Sulawesi (Mountains of Minahasa Peninsula)
M. c. charlottae in the mountains of central and southeast Sulawesi - often merged with nominate subspecies
M. c. juga on Mount Lompobattang (southwest Sulawesi)
M. c. eva on Salayar, Tanahjampea and Sula Islands
M. c. batjanensis: "Bacan Myzomela". Bacan (northern Moluccas). Authorities may include the undescribed species from Obi in this taxon ("Obi Myzomela").
Birds from Talabu possibly represent an as yet undescribed subspecies.
Habitat
Primary montane forest and tall secondary forest, possibly also in mangroves.
Occurs mainly in mountains but extends to lowlands. 700-2400 m on Sulawesi, above 800m on Taliabu, mainly 1500-2200 m on Bacan.
Behaviour
Diet
Feeds on nectar from flowers.
Forages in flowering trees, flowering mistletoes and parasitic shrubs in canopy and upper middle storey.
Usually seen singly, in pairs or in small groups, often in mixed-species flocks on Taliabu.
Breeding
No information available.
Movements
Some food-related movements possible.
References
Clements, J. F., T. S. Schulenberg, M. J. Iliff, T. A. Fredericks, J. A. Gerbracht, D. Lepage, S. M. Billerman, B. L. Sullivan, and C. L. Wood. 2022. The eBird/Clements checklist of Birds of the World: v2022. Downloaded from https://www.birds.cornell.edu/clementschecklist/download/
Gill, F, D Donsker, and P Rasmussen (Eds). 2023. IOC World Bird List (v 13.1)_red. Doi 10.14344/IOC.ML.13.1. http://www.worldbirdnames.org/
Del Hoyo, J, A Elliott, and D Christie, eds. 2008. Handbook of the Birds of the World. Volume 13: Penduline-tits to Shrikes. Barcelona: Lynx Edicions. ISBN 978-8496553453
Recommended Citation
External Links