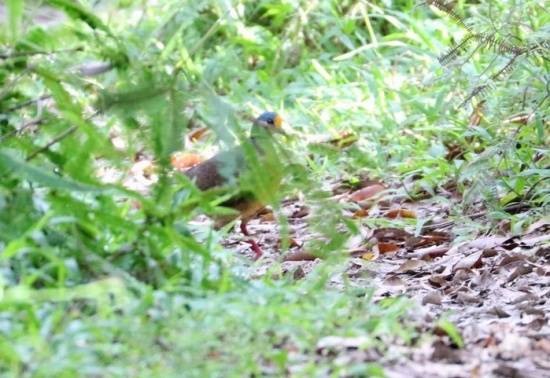 Alternative Name: Yellow-breasted Ground-dove
Gallicolumba tristigmata
Identification
32–35 cm (12½-13¾ in)
overall olive-brown
forehead golden
crown iridescent bluish-green
neck with purple patch behind ear-coverts. This extends around neck or is separate patches depending on subspecies
breast yellow
underparts white
tail dark brown
legs red
Sexes similar
Distribution
Sulawesi endemic. South East Asia: Indonesia: Greater Sundas.
Taxonomy
Subspecies
There are 3 subspecies[1]:
G.t.tristigmata - Humid forests of north and north-central Sulawesi
G.t.bimaculata - South Sulawesi
G.t.auripectus - South-central and southeast Sulawesi
Habitat
Primary forests from sea-level to 2000 m.
Behaviour
Terrestrial.
Diet
Their diet is not well known, but is likely to consist of seeds and fallen fruit; also probably insects too.
Breeding
The lay a single white egg,
References
Clements, J. F., T. S. Schulenberg, M. J. Iliff, D. Roberson, T. A. Fredericks, B. L. Sullivan, and C. L. Wood. 2017. The eBird/Clements checklist of birds of the world: v2017, with updates to August 2017. Downloaded from http://www.birds.cornell.edu/clementschecklist/download/
Handbook of the Birds of the World Alive (retrieved July 2018)
Wikipedia
Recommended Citation
External Links