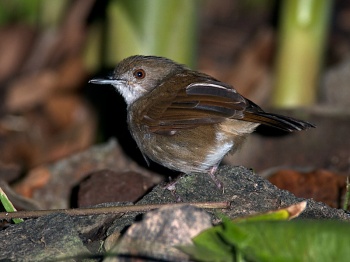 Alternative names: Celebes Babbler; Strickland's Babbler
Pellorneum celebense
Trichastoma celebense
Identification
15.5 cm. A small, relatively featureless babbler:
Strong grey bill
Thin malar whisker
Clinally varied in coloration (from rufous upperparts and whitish underparts to grey-brownish upperparts and rufous underparts)
Similar to White-chested Babbler and Ferruginous Babbler but ranges don't overlap.
Distribution
Sulawesi endemic. South East Asia: Indonesia: Greater Sundas. Common and widespread within range.
Taxonomy
Subspecies
Clements recognises the following subspecies [1]:
P. c. celebense: Northern peninsular Sulawesi, Bangka, Lembeh and Manterawu islands
P. c. rufofuscum: North-central, south-central and southeastern Sulawesi and Butung Island
P. c. finschi: Southern Sulawesi
P. c. togianense: Togian Islands
The proposed subspecies connectens and improbatum are usually merged with rufofuscum.
Habitat
Wide variety of habitats from primary broadleaf forest to cultivated areas with settlements but density higher in forested areas. Found from the lowlands up to 1900m.
Behaviour
Feeds presumably on invertebrates.
A shy bird, usually foraging close to the ground, running like a mouse.
Breeding season from April to December. The nest is a cup made of dead leaves and grass blades. It's placed 0.3 to 0.5m above the ground. Lays 2 eggs.
Resident species.
References
Clements, J. F., T. S. Schulenberg, M. J. Iliff, S. M. Billerman, T. A. Fredericks, J. A. Gerbracht, D. Lepage, B. L. Sullivan, and C. L. Wood. 2021. The eBird/Clements checklist of Birds of the World: v2021. Downloaded from https://www.birds.cornell.edu/clementschecklist/download/
Recommended Citation
External Links
GSearch checked for 2020 platform.