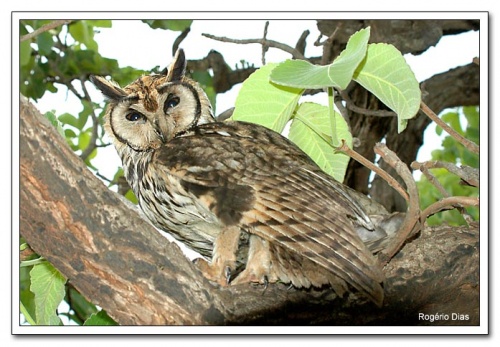 Asio clamator

Identification
30-38cm. Ear tufts are well developed and projected to the sides or to the top of the head. White black-rimmed facial disc, dark brown eyes and black bill. Its upperparts are yellowish-brown to tawny–ochre, striped with grimy brown. Below it is buff or white, with dark brown stripes. Short wings and a long tail, the flight feathers and tail have alternated buff and grimy brown bands. Tarsi and toes are feathered.
Distribution
Southern Mexico to Panama, and from northern South America (including Tobago but not Trinidad) to Uruguay and north Argentina, east of the Andes.
Taxonomy
This species has in the past been placed in genera Rhinoptynx and Pseudoscops; a footnote in the SACC baseline indicates that the placement in Asio is correct.
Subspecies:
A. c. clamator
A. c. forbesi
A. c. midas
A. c. oberi only found in Tobago
Habitat
Open or semi-open grassland and savannas with scattered trees, small groves and bushes, open marshland with bushes, pasture and agricultural land, as well as in wooded suburban areas. The subspecies oberi in Tobago seems more strictly limited to forest and forest edges, and possibly threatened by forest fragmentation in at least part of its range. Other populations may actually benefit from deforestation.
Behaviour
Nocturnal.
The diet includes spiny rats, rice rats, cavies, bats and opossums, doves, grassquits, flycatchers, thrushes, house sparrows and tinamous. Rarely taken foods include large insects and a few reptiles. The relative importance of mammals vs birds vary geographically, but larger prey (>100 g) seems to be a general feature.
2-4 eggs are laid in nests on the ground in long grass and dense bushes. The female alone incubates for approximately 33 days.
Vocalisation

Begging call. Recording by Andrew Whitehouse
References
Clements, J. F., T. S. Schulenberg, M. J. Iliff, D. Roberson, T. A. Fredericks, B. L. Sullivan, and C. L. Wood. 2017. The eBird/Clements checklist of birds of the world: v2017, with updates to August 2017. Downloaded from http://www.birds.cornell.edu/clementschecklist/download/
König, C. and F. Weick 2008. Owls of the World, second edition. Christopher Helm, London. ISBN 978-0-7136-6548-2
Information seen at conference of the Society for Conservation and Study of Caribbean Birds
External Links