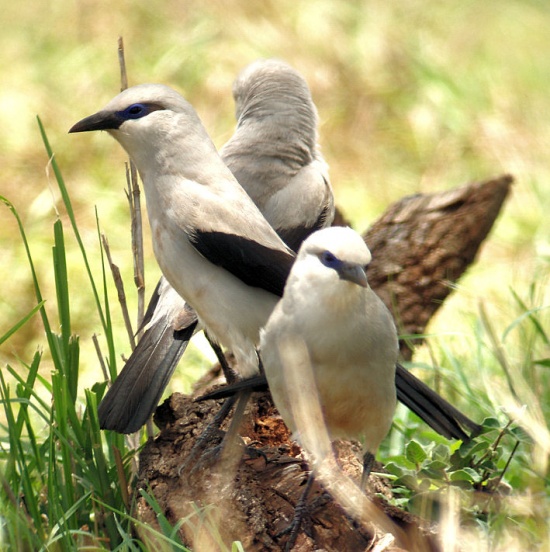 Alternative names: Bush-Crow; Ethiopian Bushcrow; Abyssinian Bushcrow; Zavattariornis
Zavattariornis stresemanni
Identification
28cm. An unmistakable corvid:
Pale grey plumage, almost white on forehead and cream-white on throat and chest
Glossy black tail and wings
Naked bright blue skin around and in front of eye, pinkish behind eye
Brown eye
Black bill with culmen decurving to pointed tip
Black legs
Sexes similar, juveniles are slightly duller.
Distribution
Endemic to Ethiopia where found around the towns of Yabello, Meega and Arero.
Fairly common but has an extremely small range and therefore classified as endangered.
Taxonomy
This is a monotypic species which is the only member of the genus Zavattariornis.
DNA analysis confirmed the inclusion in the Corvidae and revealed the genus Podoces as closest relatives.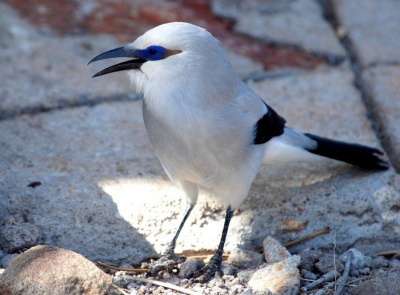 Habitat
Acacia scrub at 1300 - 1800m.
Behaviour
Feeds almost exclusively on insects.
Forages on the ground, usually in pairs or groups of 5 or 6 birds. Mixes with other savanna birds like Northern Red-billed Hornbill, Red-billed Buffalo Weaver, Superb Starling and White-crowned Starling.
Breeding starts in late February to early March. They build a globe shaped nest with a tubular top entrance high in an Acacia tree. 5-6 cream eggs with lilac blotches are laid.
A resident species.
References
Clements, JF. 2009. The Clements Checklist of Birds of the World. 6th ed., with updates to December 2009. Ithaca: Cornell Univ. Press. ISBN 978-0801445019.
Del Hoyo, J, A Elliott, and D Christie, eds. 2009. Handbook of the Birds of the World. Volume 14: Bush-shrikes to Old World Sparrows. Barcelona: Lynx Edicions. ISBN 978-8496553507
Recommended Citation
External Links