Alternative names: White Imperial Pigeon; White-tipped Imperial Pigeon; Celebes Pied Imperial Pigeon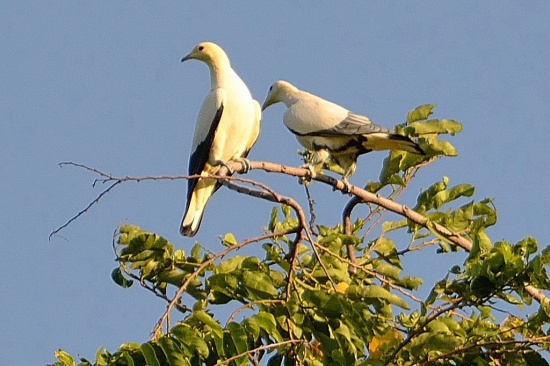 Ducula luctuosa
Identification
37-48 cm.
White plumage
Silvery grey flight-feathers with black edges
Black feathers in tibial and ventral regions, giving a mottled appearance
Sexes similar. Juveniles greyer and with buff feather fringes.
Similar species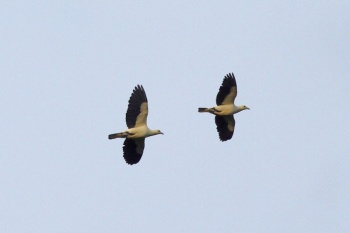 Pied Imperial Pigeon looks similar but has all black flight-feathers.
Distribution
Endemic to Sulawesi and some adjacent islands. South East Asia: Indonesia: Greater Sundas. A poorly known species, generally uncommon.
Taxonomy
This is a monotypic species.
Sometimes regarded as conspecific with Pied Imperial Pigeon.
Habitat
Forests, cultivated areas and mangroves in lowlands up to 475 m.
Less restricted to coastal and small-island habitats than Pied Imperial Pigeon.
Behaviour
Diet
Feeds on fruits. No other published information but probably similar in diet to Pied Imperial Pigeon.
Usually foraging in flocks of 5 to 20 birds.
Breeding
Breeding reported in September and October.
Movements
No information.
References
Clements, J. F., T. S. Schulenberg, M. J. Iliff, D. Roberson, T. A. Fredericks, B. L. Sullivan, and C. L. Wood. 2014. The eBird/Clements checklist of birds of the world: Version 6.9., with updates to August 2014. Downloaded from http://www.birds.cornell.edu/clementschecklist/download/
Gill, F and D Donsker (Eds). 2014. IOC World Bird Names (version 4.4). Available at http://www.worldbirdnames.org/.
Handbook of the Birds of the World Alive (retrieved November 2014)
Recommended Citation
External Links