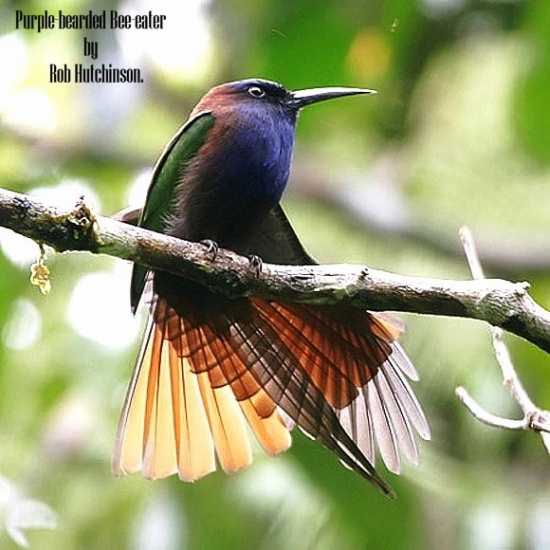 Alternative name: Celebes Bee-eater
Meropogon forsteni
Identification
25-26 cm (10 inches) long, plus 6 cm (21/2 inches) of tail streamers.
head, face, breast and upper belly purple
may appear to have a darker eye mask depending on light
throat with long hanging feathers (the "beard")
nape red-brown
upperparts, wings and upper tail are mid to dark green
tail long
undertail brownish
bill long, downturned, black
call is a quiet high-pitched szit or peep
Female is similar with a red-brown belly. Juveniles have a green crown and nape, blue beard and dusky face. They do not have the long tail feathers.
Distribution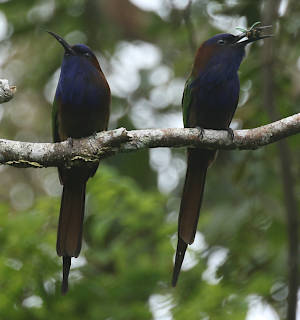 Sulawesi endemic. South East Asia: Indonesia: Greater Sundas.
Taxonomy
The Purple-bearded Bee-eater is a near passerine bird in the bee-eater family Meropidae. It's the only member of the genus Meropogon. Its scientific name commemorates Eltio Alegondas Forsten (1811-1843) who collected in the East Indies between 1838 and his death.
Habitat
Dense forest.
Behaviour
This bird breeds inland during the dry season and moves to the coast in the rainy season. It makes its nests in burrows in riverbanks and cliffs. It does not form colonies. The diet includes insects, including bees, wasps and dragonflies and beetles, which are caught in flight.
External Links
GSearch checked for 2020 platform.1