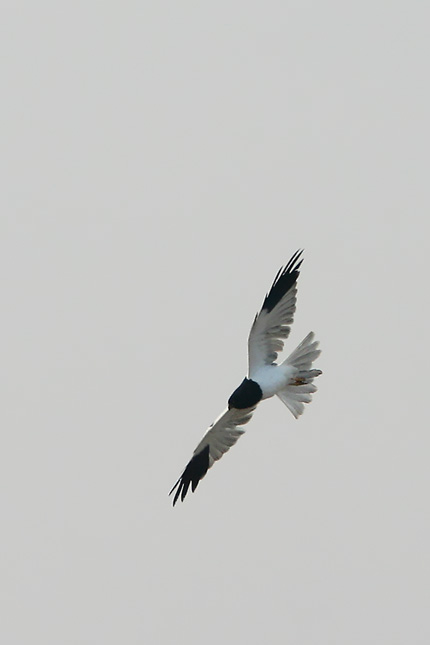 Circus melanoleucos
Identification
Adult male - head, nape, ,throat, breast, back, scapulars black, upper tail coverts white with grey barring, yellow eyes, yellow or green cere, feet yellow-orange.
Adult female - dark brown crown, nape, upper side, tail grey brown with 5 broad brown bands, white underpart, brown eyes, grey cere and yellow legs.
In display the male's call is keee-veeee and the female's a rapid kee-kee-kee, or a rapid chattering chak-chak-chak-chak-chak-chak, rather like the call of a magpie.
Distribution
East and South-East Asia.
Taxonomy
This is a monotypic species[1].
Habitat
Open grasslands, swamps, marshes and paddyfields.
Behaviour
Diet
Diet includes frogs, lizards, ground birds and insects.
Breeding
Nests made of grass, reeds and weeds are built on the ground. 4-5 white-green eggs are laid. The female incubates for 30 days and both parents feed the young.
References
Clements, J. F., T. S. Schulenberg, M. J. Iliff, S. M. Billerman, T. A. Fredericks, B. L. Sullivan, and C. L. Wood. 2019. The eBird/Clements Checklist of Birds of the World: v2019. Downloaded from http://www.birds.cornell.edu/clementschecklist/download/
Recommended Citation
External Links