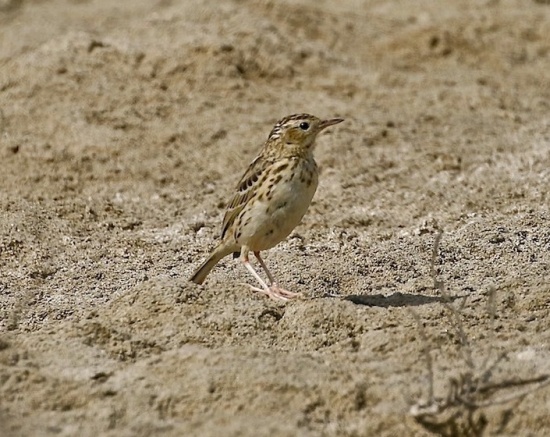 Anthus peruvianus
Identification
13 cm (5 in)

Narrow white eye-ring
Very long nail in the back toe
Similar Species
Differs from Yellowish Pipit in that Peruvian has a clearer whitish supercilium and whitish (not yellowish) underparts. Peruvian also has slightly broader, more diffuse dark streaks on its upper breast, lacking buff fringes, and extending onto flanks. Peruvian has longer wings but shorter tail and very different song and call (see below).
Distribution
South America: Coastal n Peru (Lambayeque) to extreme n Chile (Tacna)
Taxonomy
Subspecies
This species is monotypic[1]:
Habitat
Temperate grassland, seasonally wet or flooded lowland grassland, and pastureland. Often near water.
Behaviour
Breeding
They display by flying up singing a very low song and, when they get to the apex of the flight, comes down with open wings (like a parachute) and emits a buzzing sound that gives them the Portuguese name, "Walking-buzzer".
Vocalisations
Call a dry chit-it vs chu-ee in similar Yellowish Pipit. Song is a rather long series of short notes given at regular pace, followed by a strange drawn-out buzzy or sizzling note often ending with a short high-pitched note. Similar Yellowish Pipit typically gives only 1–3 short notes followed by a very nasal buzz descending in pitch.
References
Clements, J. F., T. S. Schulenberg, M. J. Iliff, D. Roberson, T. A. Fredericks, B. L. Sullivan, and C. L. Wood. 2018. The eBird/Clements checklist of birds of the world: v2018. Downloaded from http://www.birds.cornell.edu/clementschecklist/download/
Avibase
del Hoyo, J. & Collar, N. (2018). Peruvian Pipit (Anthus peruvianus). In: del Hoyo, J., Elliott, A., Sargatal, J., Christie, D.A. & de Juana, E. (eds.). Handbook of the Birds of the World Alive. Lynx Edicions, Barcelona. (retrieved from https://www.hbw.com/node/1344119 on 24 November 2018).
BF Member observations
Wikipedia
Recommended Citation
External Links