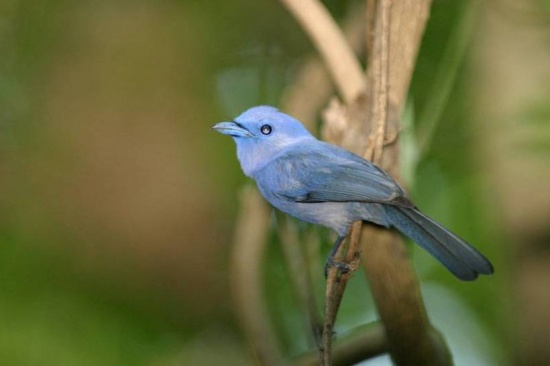 Hypothymis puella
Identification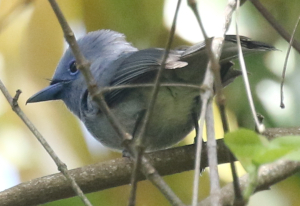 16 cm
Male
Pale blue head, chest, back and tail
Wings are a darker blue
Thin black throat band obsure or missing
Greyish-blue lower belly
Female: duller
Lacks black markings
Grey-brown back, breast, wings and tail
Similar species
Differs from Black-naped Monarch in lacking black nuchal tuft, obscure or absent breastband and greyish-blue belly.
Distribution
Found on Sulawesi, Banggai and Sula islands in Indonesia.
Taxonomy
Formerly included in Black-naped Monarch.
Subspecies[1]
Two subspecies recognized:
H. p. puella on Sulawesi and adjacent islands
H. p. blasii on Banggai and Sula islands
Habitat
Disturbed mixed deciduous forest, forest edge and second growth, with thick undergrowth, at heights up to 1,500m.
Behaviour
Breeding
A small cup nest is built from fine grasses and moss, placed in a tree. The clutch consists of 3 eggs.
Diet
The diet includes insects.
Vocalisation
Song: Hui-hui-hui or pwee-pwee-pwee.
References
Clements, J. F., T. S. Schulenberg, M. J. Iliff, B.L. Sullivan, C. L. Wood, and D. Roberson. 2013. The eBird/Clements checklist of birds of the world: Version 6.8., with updates to August 2013. Downloaded from http://www.birds.cornell.edu/clementschecklist/download/
Gill, F and D Donsker (Eds). 2013. IOC World Bird Names (version 3.5). Available at http://www.worldbirdnames.org/.
Del Hoyo, J, A Elliot, and D Christie, eds. 2006. Handbook of the Birds of the World. Volume 11: Old World Flycatchers to Old World Warblers. Barcelona: Lynx Edicions. ISBN 978-8496553064
Recommended Citation
External Links