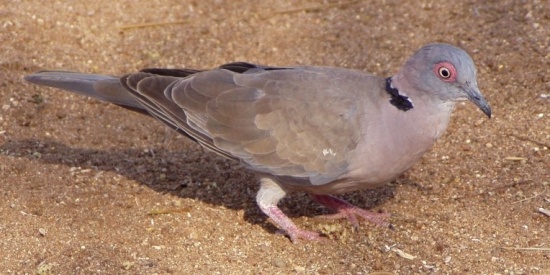 Alternative names: African Mourning Dove, Angola Collared Dove, Deceptive Dove
Streptopelia decipiens
Identification
28 cm length, 140-230 g weight.
Pale brown back, wings and tail, grey head, pink underparts, pale grey belly, black hind neck patch edged with white, yellow eyes, ring of bare red skin around eye, dark brown bill, purple-pink legs and feet. Black flight feathers, white in tail. Sexes similar.
Variation
The six subspecies are differentiated based on their size and differences in the colouring of their underparts (shades of grey on the flanks, and extent of the white on the belly) as well as to colour (light to dark to purplish red) and extent of bare skin around the eye. Description above fits the southern race is S. d. ambigua.
Similar species
Red-eyed Dove is similar but larger, and with both eye ring and iris red. African Collared Dove differs in having a white (not red) eye ring and a red (not yellow) iris, and a slightly narrower black collar.
Distribution
Africa south of the Sahara.
In 2010 recorded for the first time in the Western Palearctic near Abu Simbel, Egypt.
Taxonomy
Six subspecies are recognised[1]:
S. d. shelleyi. Western Sahel region, from Mauretania east to Nigeria.
S. d. logonensis. Lake Chad east to South Sudan, Uganda and northeast Zaire.
S. d. decipiens. Dafur area of Sudan east to northern & central Ethiopia and northwest Somalia.
S. d. elegans. Southern Ethiopia, southern Somalia, northern & eastern Kenya.
S. d. perspicillata. Western Kenya, Tanzania.
S. d. ambigua. Angola, southeastern Zaire, Zambia, Malawi.
Despite its English name, the Mourning Collared Dove is not a close relative of the North American Mourning Dove Zenaida macroura.
Habitat
Moist lowland savanna, riverine Acacia woodland, and cultivated areas.
Behaviour
It builds a stick nest in a tree, often a mangrove, and lays 2 white eggs.
Diet includes mainly grass seeds, grains and other vegetation, but also eat termite alates.
References
Clements, JF. 2009. The Clements Checklist of Birds of the World. 6th ed., with updates to December 2009. Ithaca: Cornell Univ. Press. ISBN 978-0801445019.
Hockey PAR, Dean WRJ & Ryan PG (eds) 2005. Robert's Birds of Southern Africa, 7th edition. Cape Town: John Voelcker Bird Book Fund. ISBN 0620340533
External Links
GSearch checked for 2020 platform.1