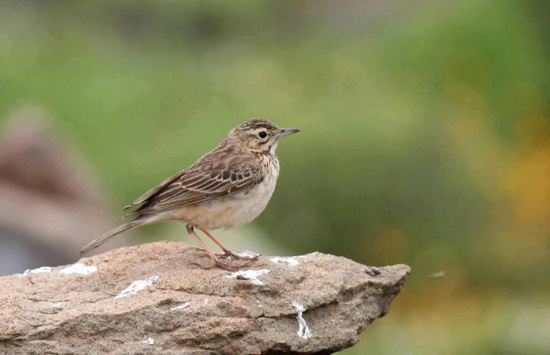 Anthus hoeschi
Identification
Length 18-19 cm, 24-28 g.
Similar to the African Pipit, but it is slightly larger, the streaking on the breast is bolder, and the lower mandible has a pink base. In flight the outer tail is buff rather than white.
Distribution
Breeds in highlands of Lesotho and South Africa. Migrates to central Africa in the southern winter.
Taxonomy
Treated as a subspecies of the African Pipit until the 1980's.
Anthus hoeschi is monotypic.
Habitat
High-altitude grassland.
Behaviour
Usually occurs singly or in pairs. Forages on the ground, probably mainly for insects.
Breeding
Monogamous and territorial. The nest is an open cup built of dry grass at the base of a grass tuft or shrub. Two to three eggs are laid November to January.
External Links