This article is incomplete.
This article is missing one or more sections. You can help the BirdForum Opus by expanding it.
Columba vitiensis
Alternative name(s): White-throated Pigeon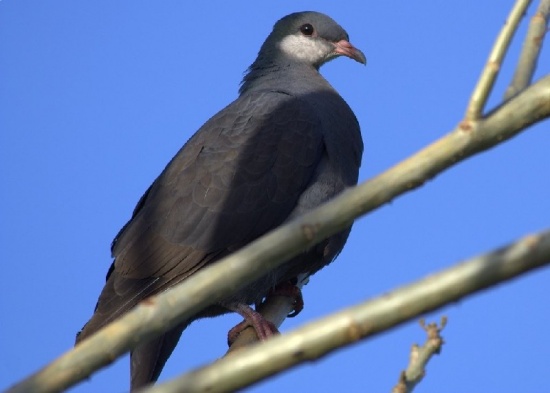 Identification
37-41 cm.
crown purple and green
wing and uppertail coverts black
iris yellowish red
bill yellow
orbital skin red
chin and ear coverts white or grey (subspecies dependent)
feet purple
Sexes are similar. Immatures are duller than adults.
Distribution
Indonesia, the Philippines, New Guinea, Solomon Islands, Fiji, New Caledonia, Samoa.
Taxonomy
Some authorities restrict "Metallic Pigeon" to subspecies metallica (i.e. C. metallica), placing others (at least griseogularis and halmaheira [2]) into "White-throated Pigeon", C. vitiensis. Reference [2] regards the differences as minor, suggesting that the plumage of griseogularis is transitional between the forms.
Subspecies
Clements recognises the following subspecies [1]:
C. v. griseogularis: Philippines, Sulu Archipelago and islands off northern Borneo
C. v. anthracina: Palawan and adjacent islands (Calauit, Comiran, and Lambucan), Philippines
C. v. metallica: Lesser Sundas
C. v. halmaheira: Banggai, Sula islands, Kai, Moluccas to New Guinea and Solomons
C. v. leopoldi: Vanuatu
C. v. hypoenochroa: New Caledonia, Isle of Pines and Loyalty Islands
C. v. vitiensis: Fiji Islands
C. v. castaneiceps: Western Samoa (Savai'i, Apolima, Manono and Upolu)
Habitat
Behaviour
The diet includes fruits, grains, seeds and berries.
Lays 1-2 eggs.
References
Clements, J. F., T. S. Schulenberg, M. J. Iliff, T. A. Fredericks, J. A. Gerbracht, D. Lepage, S. M. Billerman, B. L. Sullivan, and C. L. Wood. 2022. The eBird/Clements checklist of Birds of the World: v2022. Downloaded from https://www.birds.cornell.edu/clementschecklist/download/
Eaton, JA, B van Balen, NW Brickle, FE Rheindt 2021. Birds of the Indonesian Archipelago (Greater Sundas and Wallacea), Second Edition. Lynx Editions. ISBN978-84-16728-44-2
External Links