This article is incomplete.
This article is missing one or more sections. You can help the BirdForum Opus by expanding it.
Overview
Stroll through splendid woodlands carpeted with bluebells in the springtime, or relax under the shade of the lime avenues. Wander along the mere with splendid views over the water to the church at Great Budworth, or explore the arboretum and community orchard. Children will enjoy the play area, close to the picnic area.
Marbury has 2 bird hides, one on the mere (Budworth Mere), and one in the woodland. both are well serviced, and stocked with food hangers, and attract a large variety of birds.
Birds
Notable Species
Reed Buntings, Long tailed tits, Nuthatches, Great Crested Grebes, Kingfishers.
Rarities
Lesser Spotted Woodpecker, Bittern.
Check-list
Birds you can see here include:
Grey Heron, Great Cormorant, Great Crested Grebe, Canada Goose, Eurasian Wigeon, Northern Shoveler, Common Kestrel, Common Buzzard, Water Rail, Northern Lapwing, Great Black-backed Gull, Common Gull, Black-headed Gull, Common Kingfisher, Stock Dove, Great Spotted Woodpecker, Pied Wagtail, Meadow Pipit, Coal Tit, Eurasian Nuthatch, Common Raven, Song Thrush, Lesser Redpoll, Eurasian Siskin, European Goldfinch
Other Wildlife
Grey Squirrels, Rabbits, Foxes, Water voles, stoats.
Site Information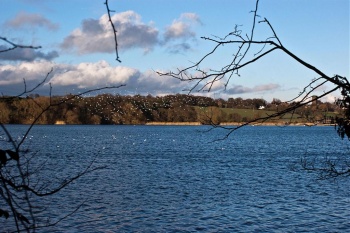 History and Use
Many of the features of the Country Park, including the lime avenues and the arboretum, are a legacy of the days when Marbury was a grand estate. The last hall, built in the 1850s, was a fine looking house modelled on the French chateau at Fontainebleu, with an imposing carriage drive entrance.
Areas of Interest
Marbury CountryPark, has 2 Bird Hides, one overlooking the Mere, if you are VERY lucky you might catch a glimpse or hear a Bittern and the other deeper in the woods which is where you will more likely see the lesser spotted woodpecker
Access and Facilities
Accessibility:
There is a well-surfaced network of paths around the park. Many of these, particularly around the more formal areas of the park, are suitable for prams and wheelchairs. There are also plenty of seats along the way.
Contact Details
Marbury Country Park: 01606 77741 Comberbach, Northwich CW9 6AT Email: [email protected]
Car Park Opening Times
Marbury Park is always 'open' but the car park closes at the following times :-
Car park open: 9.00am - 8.00pm in summer (1st April - 30th September) 9.00am - 5.00pm in winter (1st October - 31st March) Out of hours parking also available Charges: up to 3 hours: £1, all day: £2. Orange badge holders free. Permits available, contact 01606 308482
The parking permits are £25 a year and allow parking at Marbury, and the Witton Flashes car park.
How to get there
By car - the park is signed from junction 10 of the M56 and Northwich town centre.
References
Information from: Discover Cheshire Gardens
External Links