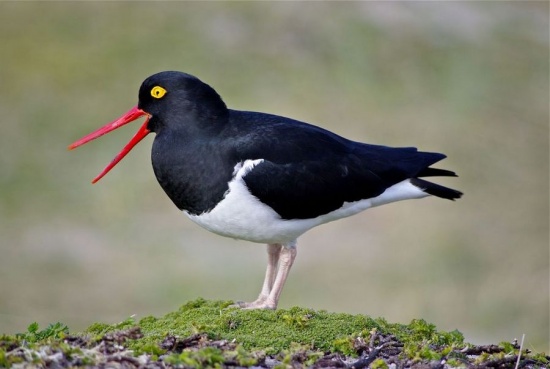 Haematopus leucopodus
Identification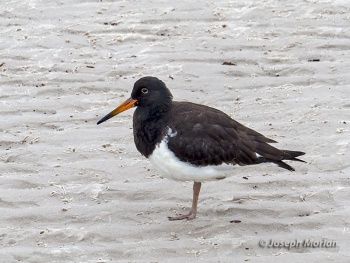 42–46 cm (16½-18 in)
Adult:
Bright yellow eye and eye-ring
Black upperparts and chest
Remainder of plumage white, including a broad white trailing edge to the upper wings
White rump and white on the underwing
Legs are very pale pink.

Immature: Similar to adult but browner above, with dark eye, dull bill with dark tip, and drab legs and feet.
Distribution
South to south-central Chile and Argentina to Cape Horn Archipelago and Falkland Islands.
Taxonomy
This is a monotypic species[1].
Habitat
Seashore, sand or mudflats, and inland on grasslands near ponds and sheep pens.
Behaviour
When excited has a display where the tail is lifted in a way that makes the white rump and undertail very obvious, a display that is not common in many other oystercatchers.
Diet
Probes in the mud and around rocks for limpets, mussels, crabs and other food items. When inland, will mainly feed on earthworms.
Vocalisation
Voice is reminiscent of an un-oiled wheel-barrow: each call of more or less one note, quickly followed by a slightly different note, but all of the un-oiled iron quality.
References
Recommended Citation
External Links
GSearch checked for 2020 platform.1