This article is incomplete.
This article is missing one or more sections. You can help the BirdForum Opus by expanding it.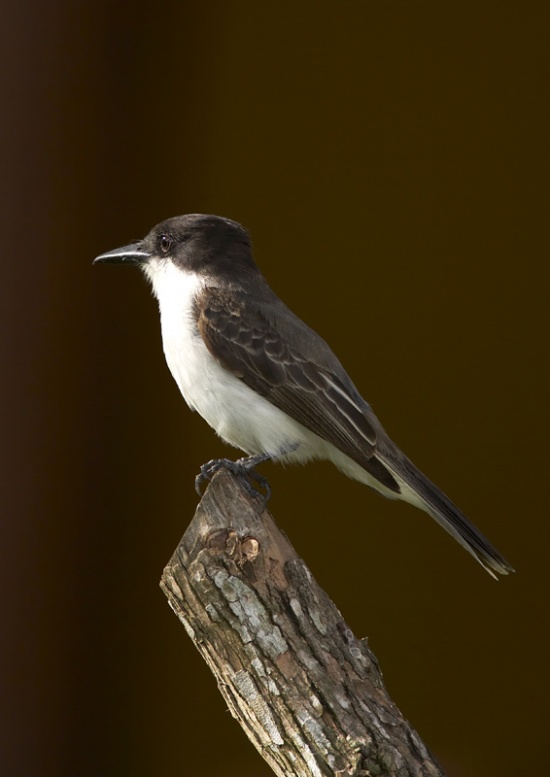 Tyrannus caudifasciatus
Identification
Quite dark olive-brown above and very pale below, with the crown black to below the eyes, reaching further down the rear side of the head. Tail is square, and has a white-to-buff trailing edge except for the eastern-most populations. A yellow crown patch is only seen when the bird displays. Feet and legs are black. Looking at the drawings, there seems to be a considerable size variation in the bill among the subspecies. At least some populations show a pale yellow wash on lower belly (especially undertail coverts).
Similar species
Gray Kingbird should have gray crown, not black, and a tail that is slightly forked.
Distribution
Resident in northern Bahama Islands and Greater Antilles; rare vagrant to southern Florida. Inhabits open woodlands.
Taxonomy
Six different subspecies are found in parts of the Bahamas, Cayman Islands, Cuba, Jamaica, Hispaniola, and Puerto Rico. This is in other words a species limited to the Caribbean and mostly to Greater Antilles. The species does not migrate away from these islands, but may increase its habitat use during periods where Gray Kingbird is absent.
Habitat
Behaviour
Likes to pluck insects from leaves and stems, not from mid air like the Gray Kingbird.
References
External Links