Alternative name: Layard's Tit-babbler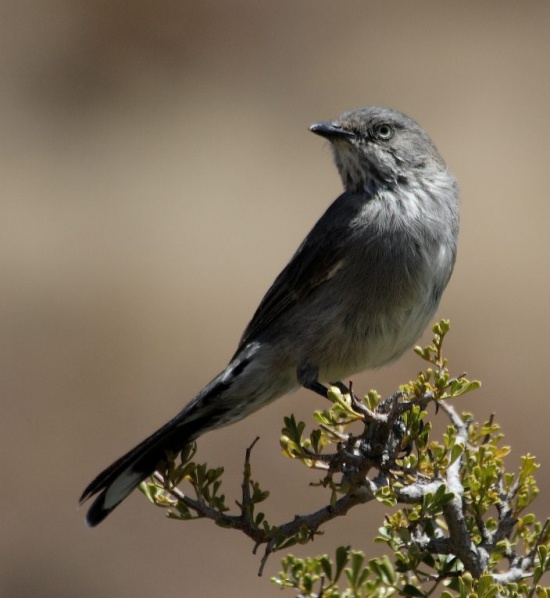 Curruca layardi
Parisoma layardi
Sylvia layardi
Identification
Length 14-16 cm, mass 15 g. Adult male: The upper parts are grey and the tail black with a white tip and white edges. The white throat has black streaks, the lower breast and belly are pale grey, and the flanks darker grey. The vent is white. The eyes are white and the bill and legs are black. Adult female: Browner than the male and less markedly streaked on the throat, but it is difficult to distinguish the sexes in the field.
The Rufous-vented Warbler is similar but has a chestnut vent.
Distribution
Western Namibia, western and central South Africa and Lesotho.
Taxonomy
This is a polytypic species[1] consisting of 4 subspecies.
This species was moved from the genus Sylvia to the genus Parisoma, but recent research showed that it should be moved back to the genus Sylvia.[1]
In Clements Aug21 it was placed in the genus Curruca
Subspecies
C. l. aridicola: - upper parts paler than C. l. barnesi and there is no white on the wings and face
Namibia and western and central South Africa
C. l. layardi: – Lighter above & darker below than C. l. barnesi
Southwestern South Africa (southern Western Cape)
C. l. barnesi: - Darker above & paler below than C. l. layardi
C. l. subsolana: - Darker below & breast more buffy than C. l. layardi, upper parts darker than C. l. aridicola and paler than C. l. barnesi
South central South Africa (Great Karoo and Little Karoo
Habitat
Shrublands and fynbos.
Behaviour
Generally resident, with seasonal altitudinal movement by populations in cooler areas. Usually forages alone or in pairs for invertebrates and fruits, low in shrubs. Inquisitive; responds to spishing.
Breeding: Monogamous and teritorial. The nest is a cup constructed from grass, plant fibres and spiders web. Usually 2 eggs are laid between July and December.
References
Gill, F, M Wright and D Donsker. 2009. IOC World Bird Names (version 2.0). Available at http://www.worldbirdnames.org/.
Hockey, PAR, WRJ Dean, and PG Ryan, eds. 2005. Roberts' Birds of Southern Africa. 7th ed. Cape Town: John Voelcker Bird Book Fund. ISBN 978-0620340533
Clements, J. F., T. S. Schulenberg, M. J. Iliff, S. M. Billerman, T. A. Fredericks, J. A. Gerbracht, D. Lepage, B. L. Sullivan, and C. L. Wood. 2021. The eBird/Clements checklist of Birds of the World: v2021. Downloaded from https://www.birds.cornell.edu/clementschecklist/download/
Recommended Citation
External Links
GSearch checked for 2020 platform.