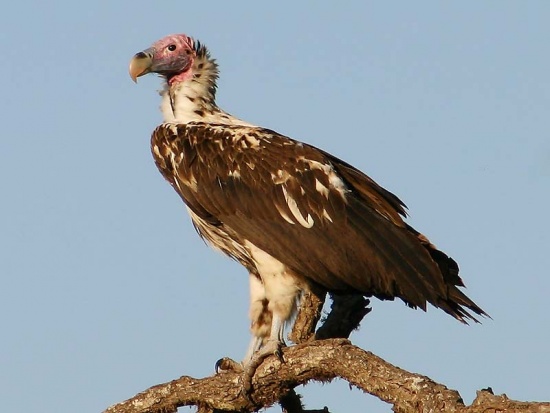 Torgos tracheliotos
Aegypius tracheliotus [2]
Identification
95–105 cm, wing-span 255–290 cm
Bare pink head and neck - covered with obvious skin folds (lappets)
Heavy bill

Adult
Dark brown plumage
Brown and white ruff
White thighs
Patches of white body down
White bar on leading edge of underwing in the African subspecies, but may be less noticeable on Middle Eastern birds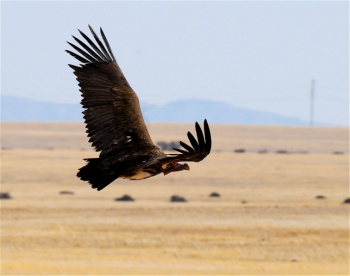 Juvenile
Dark brown lappets
Blackish flight feathers
In flight
Secondaries are broad and pointy providing a "saw-tooth" trailing edge of the wing
Tail shows a similar structure
Similar Species
Closely related to Eurasian Black Vulture (and in the past, often included in the same genus Aegypius), but does not usually overlap in range (both occur as vagrants in northern Arabia); very similar to it in structure, best distinguished by paler underparts. Rüppell's Vulture, White-headed Vulture, and other members of the genus Gyps can be confused at long range.
Distribution
Like all sub-saharan vultures, now listed as Endangered, due to a combination of habitat loss and illegal poisoning by poachers. Widespread but scarce in sub-saharan Africa from Senegal east to Ethiopia and northwest Somalia and south through the eastern half of the continent to the Cape but absent from the broad belt of Brachystegia woodland across Angola, Zambia and Mozambique.
Formerly more widespread in North Africa within the Western Palearctic and may still breed in northern Mauritania, the Tibesti of northern Chad and in south-east Egypt. Now extinct as a wild bird in Israel, where formerly bred in the Negev Desert but may still breed within the Western Palearctic in northern Saudi Arabia.
Adults are sedentary but young birds may wander widely. Small numbers are regularly seen in southern Egypt especially between Aswan and Abu Simbel and still occasionally recorded in Israel. Formerly more widespread as a breeding bird in North-West Africa but now largely a vagrant. Also recorded in Syria, Jordan and in Libya.
There is one 19th century record from France and possibly also recorded in Spain.
Taxonomy
Subspecies[1]
The species is usually regarded as monotypic but sometimes split into two-three races:
Habitat
Arid steppes, deserts and mountain areas.
Behaviour
Flight
Majestic. Glides and soars on flat wings. When perched on tree, has a rather level posture with head up and held back between or above shoulders; when on ground, body more upright.Walks freely.
Breeding
Loosely colonial in some areas, solitary breeder in others, nest is built in the top of an acacia or on a cliff ledge.
References
Clements, J. F., T. S. Schulenberg, M. J. Iliff, D. Roberson, T. A. Fredericks, B. L. Sullivan, and C. L. Wood. 2014. The eBird/Clements checklist of birds of the world: Version 6.9., with updates to August 2014. Downloaded from http://www.birds.cornell.edu/clementschecklist/download/
Gill & Wright 2006
BWPI
Birdforum thread discussing id of several African vultures
Birdforum thread discussion spelling of scientific name of this species
Recommended Citation
External Links
GSearch checked for 2020 platform.1