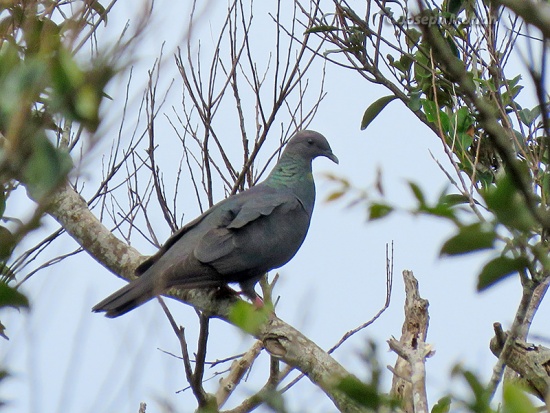 Columba janthina
Identification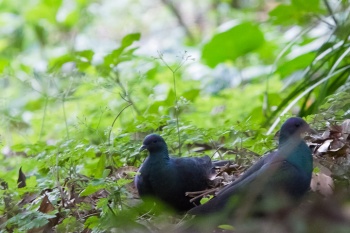 Length: 37-43.5cm (14½-17¼")
The largest pigeon in the East Asia region Very dark in appearance, with small head, longish neck and tail. Overall the body is soot-black with iridescent green or purple on crown, shoulders and sides of neck. C. j. nitens has reddish or purplish coloration on face, head and upper back of neck. Bill is longish, narrow and dark with ivory tip. Tarsi are red in adults while paler in juveniles. Appears like a crow in flight, with large wings and slightly fanned tail.
Distribution
Asia: found in China, South Korea, Japan and Taiwan.
Taxonomy
Subspecies
There are 2 subspecies[1]:
Small islands south-west of South Korea to Ryukyu Islands
Ogasawara (Bonin Islands) and Iwo (Volcano Islands)
An additional subspecies stejnegeri is generally considered to be invalid[2].
Habitat
Forest, primarily old-growth.
Behaviour
Diet
Primarily Camellia seeds, but also other seeds, buds and fruits.
Breeding
Nest reported to usually be in a hole in a tree, also sometimes among rocks. A single egg is laid. Nesting season is February through September.
Vocalisations
Typical call is a long, drawn-out cow-like mooing, also a lamb-like bleating during courtship.
Movements
Assumed largely resident, but occasional sightings away from known areas indicate some migratory movement.
References
Clements, J. F., T. S. Schulenberg, M. J. Iliff, S. M. Billerman, T. A. Fredericks, B. L. Sullivan, and C. L. Wood. 2019. The eBird/Clements Checklist of Birds of the World: v2019. Downloaded from http://www.birds.cornell.edu/clementschecklist/download/
Baptista, L.F., Trail, P.W., Horblit, H.M., de Juana, E., Sharpe, C.J. & Boesman, P. (2019). Japanese Woodpigeon (Columba janthina). In: del Hoyo, J., Elliott, A., Sargatal, J., Christie, D.A. & de Juana, E. (eds.). Handbook of the Birds of the World Alive. Lynx Edicions, Barcelona. (retrieved from https://www.hbw.com/node/54122 on 4 October 2019).
BirdLife International 2016. Columba janthina. The IUCN Red List of Threatened Species 2016: e.T22690206A93265097. http://dx.doi.org/10.2305/IUCN.UK.2016-3.RLTS.T22690206A93265097.en. Downloaded on 15 October 2019.
Brazil, M. (1991). The Birds of Japan. Smithsonian Inst. Press. Washington, D.C. ISBN 1-56098-030-3
Brazil, M. (2018). Birds of Japan. Helm, London. ISBN 978-1-4729-1386-9
Recommended Citation
External Links