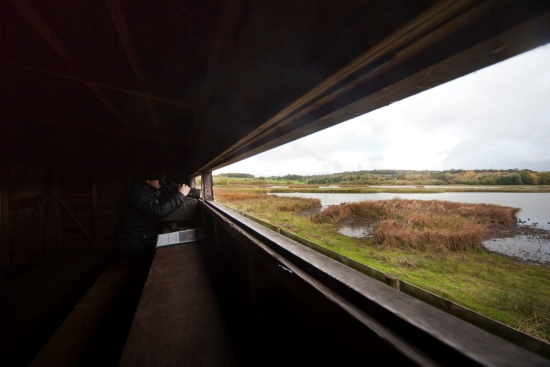 Overview
The principal bird watching site on the RSPB's Dee Estuary Nature Reserve, IMF as it is affectionately known has steadily built its reputation as one of the northwests best birdwatching sites.
The RSPB purchased 30 hectares of abandoned arable stubble and wet rush-dominated areas in September 1986 and proceeded to create a natiral looking complex of freshwater pools with viewing facilities.
In 1988 the remains of Burton Point Farm were bought allowing access and after further works the reserve was opened to members in 1992. It is now open to non-members also.
In 1998 the hard work paid off and IMF was granted SSSI status and later incorporated in the Dee Estuary SPA.
In 2007 the RSPB purchased more of the adjacent land to extend the wetland habitats. Since then a huge amount of work has taken place to create over 4km of ditches, a 5 hectare scrape and a 5 hectare reedbed. It is planned that late 2011 will see the opening of a reception building and new visitor facilities including many new trails, toliets and a new hide plus other viewing structures.
Birds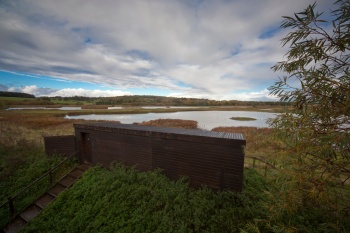 Notable Species
IMF may be known for its records of scarce and rare wading birds and wildfowl but its is the more usual waders and wildfowl that make it such an important site. Black-tailed Godwit are often the most numerous wader throughout the year as the reserve gets both wintering birds and also hosts a large flock of non-breeding individuals.
Winter duck numbers can include near 2000 Eurasian Teal whilst Northern Pintail, Northern Shoveler, Eurasian Wigeon, Shelduck and Mallard occur in good numbers. Smaller numbers of Tufted Duck whilst other diving ducks remain scarce. Wading birds present winter include Common Redshank, Common Snipe, Dunlin, Ruff, European Golden Plover whilst Northern Lapwing gather in their thousands on the pools and surrounding fields. Harsh winter conditions give you the best chance of seeing Water Rail and Common Kingfisher.
A specially planted crop field attracts hundreds if not thousands of passerines in the winter with the majority being Eurasian Linnet, Chaffinch, European Goldfinch, Reed Bunting with smaller numbers of Brambling.
Spotted Redshank and Ruff occur on passage often present in full breeding plumage before moving on whilst Ringed Plover and Little Ringed Plover also ocuur on passage along with most of the other common waders. Pied Avocet and Eurasian Oystercatcher have succesfully bred in the past few years.
Spring regularly sees eight species of warbler arrive with Common Grasshopper Warbler and Lesser Whitethroat making the list of "must sees" along with the chance of picking up a scarce or rare wader on the pools. Spotted Flycatcher regularly occur in the small bits of woodland on the reserve along with the commoner woodland birds. A small patch of alder woodland is your best bet of catching up with Eurasian Siskin and Lesser Redpoll.
Amongst the Birds of Prey and Owls Common Buzzard are the most common but Eurasian Hobby and Marsh Harrier occur in the summer months whilst Hen Harrier, Merlin and Short-eared Owl spend the winter here. Barn Owl, Kestrel, Peregrine Falcon and Sparrowhawk occur all year around.
Rarities
Green-winged Teal have occurred over the past few winters.
Recent autumns have been good for marsh terns with Black Tern, White-winged Black Tern and Whiskered Tern all occuring in 2010.
Long-billed Dowitcher have also regularly occured over the past few autumns.
Check-list
The reserve's checklist currently stands at 230 and a checklist is available for a small donation on reception Birds you can see here include:
To do
Other Wildlife
23 mammal species have been recorded including red fox, badger and harvest mouse.
Four species of amphibian and reptile.
17 different damselflies and dragonflies, including the scarce red-eyed damslefly and the UK's largest dragonfly - The Emporer Dragonfly.
24 butterfly species with IMF being a particularly good spot for Wall Brown.
Also 207 plant species including five different orchids.
Site Information
History and Use
Prior to the 1733 it is believed that the area was part of the then much larger Dee Estuary when large numbers of wild geese and other wildfowl would frequent the marshes. However, in 1733 the first cutting was made for a new channel in the River Dee which was intended to get the shipping trade back to Chester. The cutting of this channel altered the flow of the River Dee and in addition to a land reclamation programme the area became subject to fewer tidal innudations. The creation of the "borderlands" railway line in the 1890s from Bidston to Wrexham finally sealed off this section of land from the tide and sealed its fate as agricultural land.
During the early 1900s the land was intensively farmed with wetter areas for wildfowling activities. However, as the local steel industry required less water the area bcome to be dominated by rush and became too boggy for farming so it was eventually abandoned. In September 1986 the RSPB purchased the land and set about a 25 year conservation management scheme which continues to this day.
Areas of Interest
A single hide overlooks the freshwater pool complex whilst a bench half way along the track affords great views over the crop field and beyond to most of the wetland areas.
Nearby sites also form part of the RSPB's Dee Estuary Nature Reserve including; Burton Marsh, Decca Pools, and Neston Reedbed
Access and Facilities
There is a car park for 12 cars with a small overflow area. All vistors are asked to report to reception where a member of staff/volunteer can offer all the latest information. Varoius regional publications are available.
A single toilet is available upon request in cases of dire need.
A half mile track leads to a medium sized traditional hide with seating for 15-20 people. The path can become muddy in wet weather and the hide overlooks three freshwater pools.
A bench is present about half way along the track which affords fantastic views over much of the wetland area.
Grid Reference: SJ305742
Contact Details
Phone 0151 336 7681
Email [email protected]
Address: Burton Point Farm, Station Road, Burton, Cheshire, CH64 5SB
External Links