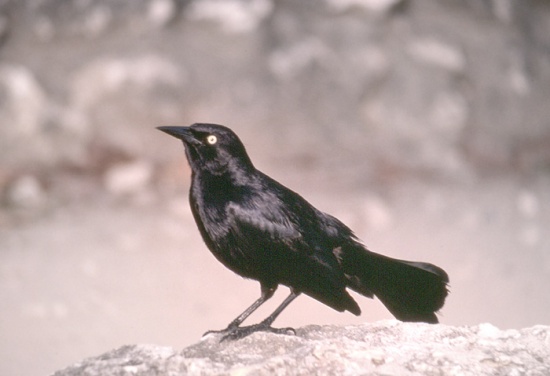 Quiscalus niger
Identification
25-30 cm
Adult male has yellow eyes and is glossy black with a deep V shape in the tail. Female duller and less strong V.
Juvenile even duller and with medium brown eyes.
Distribution
Greater Antilles: Cuba, Cayman Islands, Jamaica, Hispaniola, and Puerto Rico.
Taxonomy
Subspecies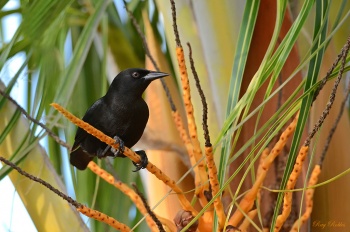 Polytypic, Seven subspecies are recognized[1]:
Western Cuba, Isle of Pines and cays east to Cayos de las Doce Leguas
Central and easter Cuba and inner cays of Jardines de la Reina
Hispaniola, Gonâve, Tortue, Île-a-Vache and Beata islands
Habitat
Pastures, farms, scrub, parking lots and other open and edge areas in lowlands.
Behaviour
Usually occur in flocks, and outside of breeding season may roost in vary large flocks often at electrical substations.
References
Clements, J. F., T. S. Schulenberg, M. J. Iliff, D. Roberson, T. A. Fredericks, B. L. Sullivan, and C. L. Wood. 2014. The eBird/Clements checklist of birds of the world: Version 6.9., with updates to August 2014. Downloaded from http://www.birds.cornell.edu/clementschecklist/download/
Raffaele et al. 1998. Birds of the West Indies. Christopher Helm, London. ISBN 0713649054
Kirwan, GM, A Levesque, M Oberle, and CJ Sharpe. 2019. Birds of the West Indies. (Lynx and Birdlife International Field Guides) Barcalona, Lynx Editions. ISBN 978-84-16728-17-6
Recommended Citation
External Links