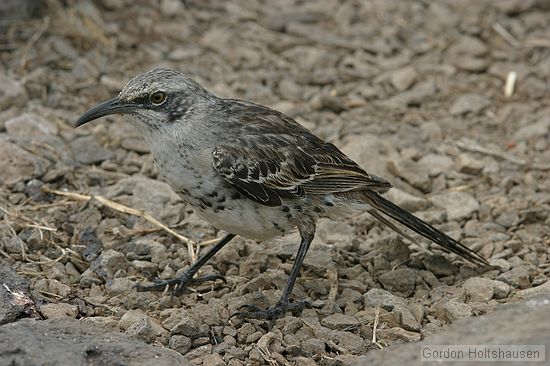 Alternative name: Hood Mockingbird
Mimus macdonaldi
Nesomimus macdonaldi
Identification
Dull white chest and belly, streaked or spotted grey to brown coloring on the top. The dark wing feathers. Darker spots on the chest, a black streak across its yellow-to-brown eyes, and has a black bill and legs.
Distribution
Endemic to Española Island (previously known as the Hood Mockingbird) in the Galapagos.
Taxonomy
This is a monotypic species.
Also placed in genus Nesomimus.
Habitat
Rocky terrain and sand and pebble beaches.
Behaviour
Diet includes seabird eggs.
Birds will share feeding duties for the young in a group.
References
Clements, James F. 2007. The Clements Checklist of Birds of the World. 6th ed., with updates to October 2007. Ithaca: Cornell University Press. ISBN 9780801445019
SACC proposal to change the English name to Española Mockingbird
Recommended Citation
External Links