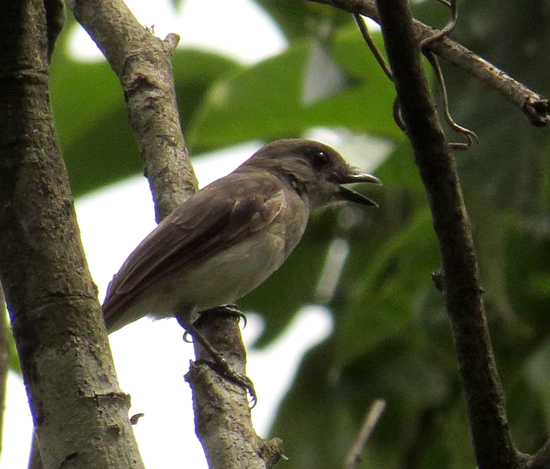 Pachycephala griseonota
Includes: Cinnamon-breasted Whistler or Obi Whistler
Identification
14 - 15.5cm (5½-6 in).
Nominate subspecies:
crown, forehead and side of head sooty grey
upperparts greyish-brown
upperwing and tail dusky grey-brown
chin and throat off-white
breast greyish-ochre
belly rusty ochre
bill black
Females are similar but more uniformely coloured. Immature similar to female.
Distribution
Found on several islands of the Moluccas, Indonesia. Common on some, uncommon on other islands.
Taxonomy
Subspecies johni is sometimes treated as full species, "Cinnamon-breasted Whistler" or "Obi Whistler" (P. johni).
Subspecies
Clements recognises the following subspecies [1]:
P. g. cinerascens: Tidore, Ternate, Halmahera, Bacan and Morotai. [has a browner back than lineolata, a darker breast and a white belly with a slight tinge of ochre]
P. g. lineolata: Banggai Islands (Peleng) and Sula Islands (Taliabu, Seho and Sanana). [similar to kuehni but the back is greyer, the breast grey and the belly white]
P. g. johni: "Cinnamon-breasted Whistler" or "Obi Whistler". Obi. [olive-brown upperparts and uniform rusty cinnamon underparts]
P. g. examinata: Buru. [Upperparts dark grey, throat white, under parts pale buff]
P. g. griseonota: Seram
P. g. kuehni on Kai Islands (Kai Besar, Tual, Kai Kecil). [similar to griseonota but has a tinged grey throat a duller grey-brown breast and a paler buffy ochre belly]
Habitat
Lowland moist forests. Avoids mangroves. Occurs on some islands only in lowlands, on others like Seram up to 1100m.
Behaviour
Diet
Feeds on insects. Sometimes in mixed-species flocks.
Breeding
Juveniles recorded in September. No other information about breeding.
Resident species.
References
Clements, J. F., T. S. Schulenberg, M. J. Iliff, S. M. Billerman, T. A. Fredericks, J. A. Gerbracht, D. Lepage, B. L. Sullivan, and C. L. Wood. 2021. The eBird/Clements checklist of Birds of the World: v2021. Downloaded from https://www.birds.cornell.edu/clementschecklist/download/
Del Hoyo, J, A Elliott, and D Christie, eds. 2007. Handbook of the Birds of the World. Volume 12: Picathartes to Tits and Chickadees. Barcelona: Lynx Edicions. ISBN 978-8496553422
Recommended Citation
External Links