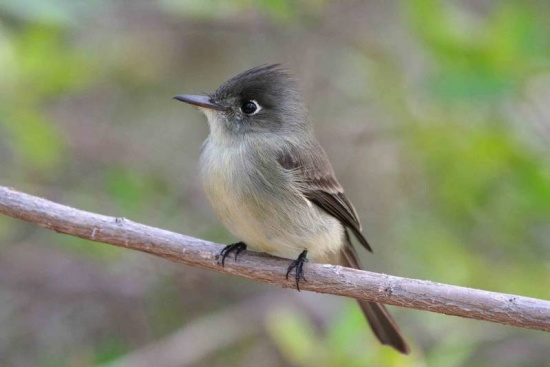 Contopus caribaeus
Identification
Grey upperparts
Pale yellow underparts
Dark grey head
Bushy crest
White crescent behind eye
Dark wings, 2 faint wingbars
Black upper mandible
Yellow lower mandible
Sexes alike
Distribution
Caribbean: found in Cuba and northern Bahamas.
Taxonomy
Subspecies
There are 4 subspecies[1]:
Southern Cuba (Zapata Swamp) and adjacent offshore cays
Islands off southern Camaguey (Cuba)
A 5th subspecies florentinoi is generally considered invalid[2].
Habitat
Pine forest, plantations, brushland, edges of swamps and mangroves.
Behaviour
Diet
The diet includes insects which are hawked aerially.
References
Clements, JF. 2011. The Clements Checklist of Birds of the World. 6th ed., with updates to August 2011. Ithaca: Cornell Univ. Press. ISBN 978-0801445019. Spreadsheet available at http://www.birds.cornell.edu/clementschecklist/downloadable-clements-checklist
Avibase
Whatbird
Recommended Citation
External Links