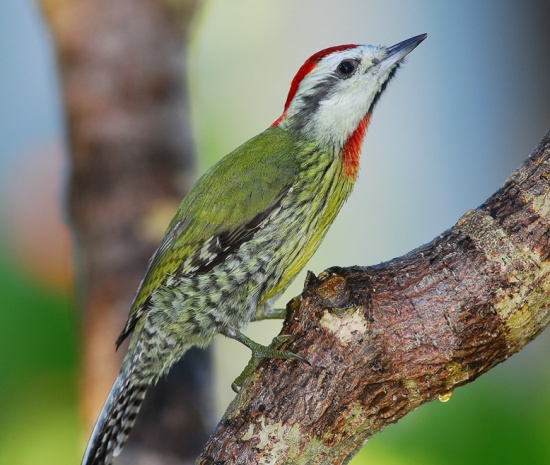 Xiphidiopicus percussus
Identification
Olive green back
Yellow below, dark streaked
White head
Thick black stripe behind the eye
Small red throat patch
Male - red crown
Female - white streaked, black forecrown; red nape; shorter bill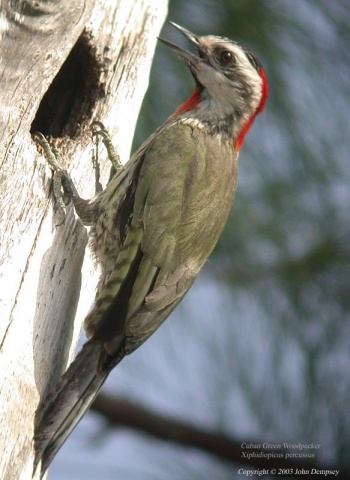 Distribution
Endemic to Cuba and some small adjacent islands.
Taxonomy
Subspecies
There are 2 subspecies[1]:
Isle of Pines, Cantiles Keys and Archipelago Jardines de la Reina
Four additional subspecies are not generally recognised: monticola, marthae, cocoensis and gloriae[2].
Habitat
Dry forests with pine, and coastal vegetation.
Behaviour
Main source of foods is insects and other invertebrates, but has for a while been known to also eat fruit. Recent observations show that the Cuban Green Woodpecker also will drink nectar from some flowers and that they in doing so actually help pollinating those flowers.
References
Clements, J. F., T. S. Schulenberg, M. J. Iliff, D. Roberson, T. A. Fredericks, B. L. Sullivan, and C. L. Wood. 2018. The eBird/Clements checklist of birds of the world: v2018. Downloaded from http://www.birds.cornell.edu/clementschecklist/download/
Avibase
Arthur Grosset
Dalsgaard, B. 2011. Nectar feeding and pollination by the Cuban Green Woodpecker (Xiphidiopicus percussus) in the West Indies. Ornithologia Neotropical 22(3):447-451
Farnsworth, Andrew. 2012. Cuban Green Woodpecker (Xiphidiopicus percussus), Neotropical Birds Online (T. S. Schulenberg, Editor). Ithaca: Cornell Lab of Ornithology; retrieved from Neotropical Birds Online
Recommended Citation
External Links