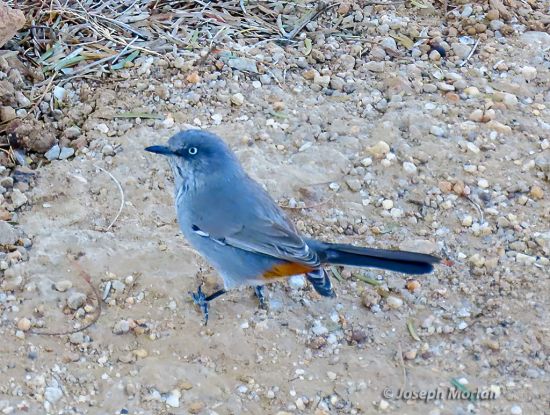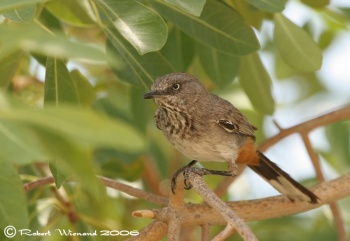 Alternative Names: Chestnut-vented Tit-babbler, Rufous-vented Warbler
Curruca subcoerulea

Sylvia subcaerulea
Sylvia subcoerulea
Parisoma subcaeruleum
Identification
13·5 cm (5¼ in)
Greyish-brown upperparts
Black tail has broad white outer tail feathers
Grey throat with dark streaking
Grey breast and belly
Bright chestnut vent
Grey eyes
White eye ring
Black legs

The sexes are similar; juvenile has an unstreaked throat.
Distribution
Africa:
Western Africa: found in Angola
Eastern Africa: Zambia
Southern Africa: Namibia, Botswana, Zimbabwe, South Africa (except wetter eastern and north-eastern parts), KwaZulu-Natal and eSwatini
Taxonomy
This is a polytypic species[1] consisting of 4 subspecies.
Subspecies
Western South Africa, from Northern Cape south of the Gariep (Orange) River, east to southwestern Free State
Formerly placed in the genus Parisoma.
Habitat
Thornveld, riverine bush and scrub, semi-arid scrub, bushy hillsides, thickets in savanna.
Behaviour
Diet
Their diet consists of insects and small invertebrates such as caterpillars, mantids and spiders. They also eat some fruits and seeds.
Breeding
Season: August to December in sw Cape, August to March (mainly October-December) in Transvaal, October to January in KwaZulu-Natal, September to March (mainly September-November) in Zimbabwe, December to April in sw Kalahari (where probably partly opportunistic after rain). Nest: Thin-walled cup of dry grass, rootlets and spider web, lined with fine plant fibres and down.
References
Clements, J. F., T. S. Schulenberg, M. J. Iliff, S. M. Billerman, T. A. Fredericks, J. A. Gerbracht, D. Lepage, B. L. Sullivan, and C. L. Wood. 2021. The eBird/Clements checklist of Birds of the World: v2021. Downloaded from https://www.birds.cornell.edu/clementschecklist/download/
Hockey, PAR, WRJ Dean, and PG Ryan, eds. 2005. Roberts' Birds of Southern Africa. 7th ed. Cape Town: John Voelcker Bird Book Fund. ISBN 978-0620340533
Handbook of the Birds of the World Alive (retrieved April 2019)
Recommended Citation
External Links
GSearch checked for 2020 platform.1