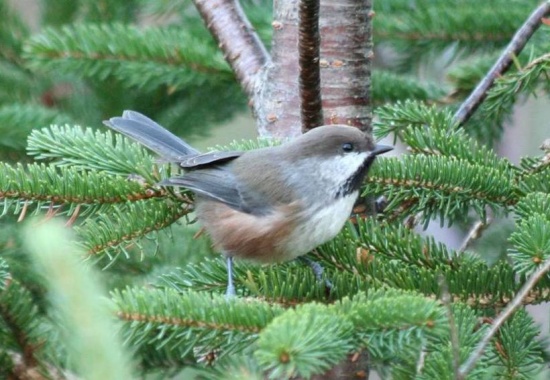 Poecile hudsonicus
Identification
12.5–14.5 cm
Grey-brown upperparts
Brown cap
Greyish wings and tail
Grey face with white sides
White underparts
Brown flanks
Black throat
Short dark bill
Short wings
Long notched tail
Distribution
In most boreal regions of North America, meaning the coniferous forests of Canada, Alaska and northernmost parts of some US states such as Maine and Minnesota. Additional "islands" of habitat in the fir forests on mountain ranges in New York and New England.
Taxonomy
This is a polytypic species, consisting of five subspecies[1]:
The scientific name of this species has in the past been given as both Parus hudsonicus and Poecile hudsonica but most world wide checklists currently use Poecile hudsonicus.
Habitat
Dense coniferous woodland, especially spruce and fir.
Behaviour
Breeding
Monogomous. They nest in a tree hole which both sexes excavate.
Diet
The diet includes aphids, moths, insect larvae and conifer seeds.
Vocalisation
Call: tsik-a-dee-dee.
(Similar to the call of a black-capped chickadee, but usually described as less melodious.)
References
Clements, J. F., T. S. Schulenberg, M. J. Iliff, B.L. Sullivan, C. L. Wood, and D. Roberson. 2013. The eBird/Clements checklist of birds of the world: Version 6.8., with updates to August 2013. Downloaded from http://www.birds.cornell.edu/clementschecklist/download/
Handbook of the Birds of the World Alive (retrieved April 2014)
Wikipedia
Recommended Citation
External Links