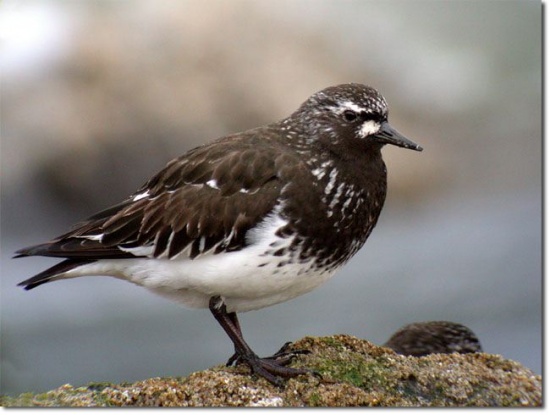 Arenaria melanocephala
Identification
Similar to the much more common Ruddy Turnstone, but lacking the harlequin appearance. Overall much plainer in plumage, with very dark to black upperparts and breast, white belly. Legs are dark orange or yellow during breeding. Has a prominent white spot in front of the eye in winter that is missing during the summer breeding season.
Distribution
West Coast of North America, breeding only in Alaska.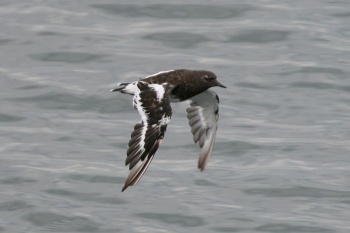 Taxonomy
Was in the past classified in the Plover (Charadriidae) family; now considered a sandpiper (Scolopacidae).
Monotypic[1]
Habitat
Rocky shores. Often seen on manmade structures such as jetties and docks.
Behaviour
Diet
Forages among rocks and shoreline debris for a wide variety of plant and animal material. Pries open barnacles and shells with its sharp sturdy bill.
References
Clements, J. F., T. S. Schulenberg, M. J. Iliff, D. Roberson, T. A. Fredericks, B. L. Sullivan, and C. L. Wood. 2018. The eBird/Clements checklist of birds of the world: v2018. Downloaded from http://www.birds.cornell.edu/clementschecklist/download/
Recommended Citation
External Links
GSearch checked for 2020 platform.1