Alternative name: Dwarf Black Hornbill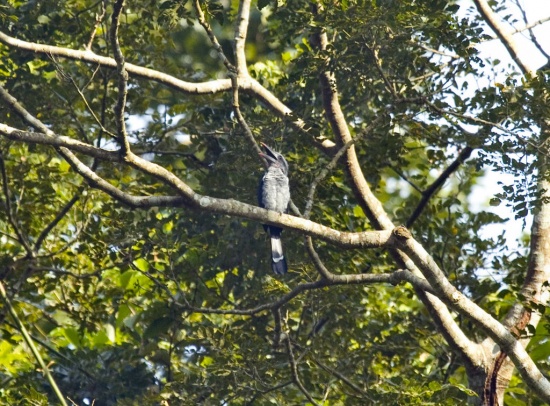 Horizocerus hartlaubi
Identification
32cm. A small, blackish hornbill.
Mostly black plumage
Broad white eyestripe
Black tail with white tip
Dark bill with red tip, dark casque (red casque in granti)
Blackish bare skin around eye
Flesh-coloured throat skin
Females are smaller than males, the bill is all dark and the casque smaller.
Juveniles are similar to females.
Distribution
Found in tropical Africa from southern Sierra Leone and southern Guinea east to Cameroon, Democratic Republic of Congo east to South Sudan and western Uganda, south to northwest Angola.
Locally common.
Taxonomy
Formerly placed in the genus Tockus.
Subspecies[1]
There are 2 subspecies:
Habitat
Tall evergreen and gallery forest.
Behaviour
Feeds mainly on insects, takes also spiders, small lizards and rarely fruit.
Feeds mainly in the subcanopy, sometimes following monkeys to take insects disturbed by them.
Little known about breeding. Nests in a natural cavity in a tree, the female seals herself in. Lays probably up to 4 eggs.
References
Clements, J. F., T. S. Schulenberg, M. J. Iliff, D. Roberson, T. A. Fredericks, B. L. Sullivan, and C. L. Wood. 2015. The eBird/Clements checklist of birds of the world: v2015, with updates to August 2015. Downloaded from http://www.birds.cornell.edu/clementschecklist/download/
Del Hoyo, J, A Elliot, and J Sargatal, eds. 2001. Handbook of the Birds of the World. Volume 6: Mousebirds to Hornbills. Barcelona: Lynx Edicions. ISBN 978-8487334306
Avibase
Recommended Citation
External Links
GSearch checked for 2020 platform.