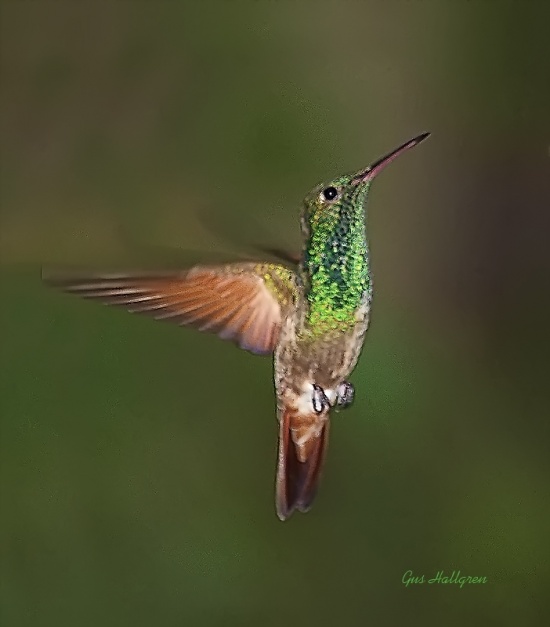 Saucerottia beryllina
Amazilia beryllina
Identification
Male
Emerald green
Purple rump
Some purple wing and tail feathers
Bright green gorget
Black bill (lower mandible has red base)
Undertail coverts cinnamon-brown

Female: duller with pale grey belly and undertail coverts.
Distribution
Resident year round in Mexico to Guatemala, Honduras, and El Salvador, and a rare summer visitor to southeast Arizona and New Mexico.
Taxonomy
This is a polytypic species[1 consisting of 5 subspecies.
Subspecies
Oak-pine woods of northwestern Mexico (Sonora to Guerrero)
Eastern and central Mexico (Veracruz to central Oaxaca)
Montane slopes of southern Mexico (western Chiapas)
Coastal mountains of southern Mexico (central and southern Chiapas)
Habitat
Foothills and highlands, oak and pine woodlands and edges, oak scrub and clearings, plantations.
Behaviour
Breeding
It builds a nest of plant fibres and spider webs, covered with lichens, in a tree or shrub. The 2 white eggs are incubated by the female for about 14 days.
Diet
The diet includes nectar and insects.
Vocalisation
A series of hoarse, high twitters sirr, kirr-I-rr, kirr-I-rr; also a buzzing drrzzzzt.
References
Clements, J. F., T. S. Schulenberg, M. J. Iliff, T. A. Fredericks, J. A. Gerbracht, D. Lepage, S. M. Billerman, B. L. Sullivan, and C. L. Wood. 2022. The eBird/Clements checklist of Birds of the World: v2022. Downloaded from https://www.birds.cornell.edu/clementschecklist/download/
Howell & Webb, 1995. A guide to the birds of Mexico and northern Central America. Oxford University Press. ISBN 0198540124
Hummingbirds.net
Whatbird
Recommended Citation
External Links
GSearch checked for 2020 platform.