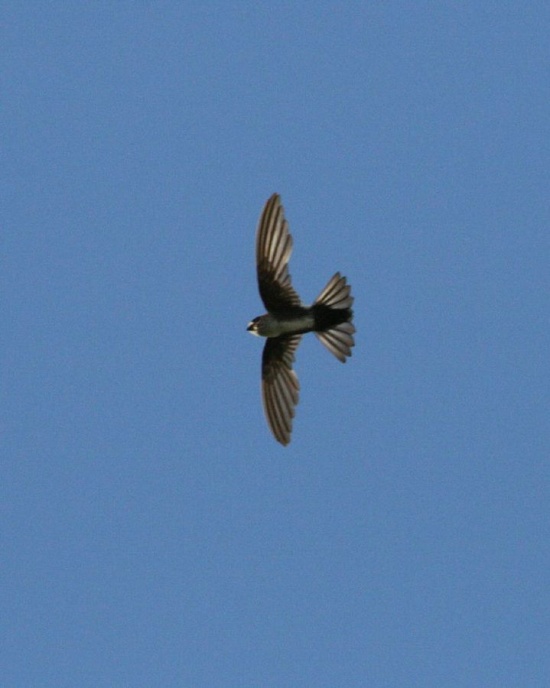 Tachornis phoenicobia
Identification
Mostly black upperside with white rump. Narrow white central underside between black flanks and with a thin dark breast band. Sides of head is dark grey-brown, not black. Immature has buffy instead of white underside. [1]
Distribution
Cuba, Isle of Pines, Jamaica and Hispaniola. Vagrant to Puerto Rico and accidental vagrant to Florida (1 record).
Taxonomy
Subspecies[1]
Habitat
Lowlands and low mountains.
Behaviour
Diet
The diet consists of insects which are caught at less than 20 m/65 ft above ground.
Breeding
Nesting is colonial, taking place in March/April, most often in palms or tobaco sheds[1].
Easily seen around inhabited areas breeding in any thatched roof buildings including roadside shelters. (P.Freestone)
References
Raffaele et al. 1998. Birds of the West Indies. Christopher Helm, London. ISBN 0713649054
Clements, JF. 2008. The Clements Checklist of Birds of the World. 6th ed., with updates to December 2008. Ithaca: Cornell Univ. Press. ISBN 978-0801445019.
Freestone.P. 2005 Trip Report to Dominican Republic. Cornwall Birding Website. http://www.cornwall-birding.co.uk/trip-reports/dominican-republic-a-hotel-bird-report/
Recommended Citation
External Links
GSearch checked for 2020 platform.